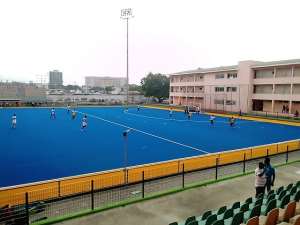 The Africa Cup for Club Champions[ACCC] - MEN 32nd Edition & WOMEN 23rd Edition - are scheduled to take place in Accra, Ghana during the period 24-30 November 2021.
Vice President of Ghana Hockey, Madam Elizabeth King who is a member of the Local Organising Committee (LOC) and a top official of African Hockey said she expects a wonderful and memorable tournament.
She appealed to sports fans to visit the new look Theodocia Okoh Hockey pitch, near Tema Station in Accra and enjoy the game of hockey. She also urged students to come and watch to cultivate their interest in hockey.
The Men's clubs participating are Eastern Company (Egypt), Tairat (Egypt), Zamalek (Egypt), Ghana Army (Ghana), Ghana Police Service (Ghana), Ghana Revenue Authority (Ghana), Wazalendo Kenya, Kada (Nigeria) and Police Machine (Nigeria).
The Women's clubs taking part are Ghana Prisons Ghana, Ghana Police Service Ghana, Ghana Revenue Authority Ghana, Delta Queens Nigeria and Plateau Queens Nigeria.
The event is sponsored by Pharco Pharmaceuticals
In Abuja 2018 Ghana's GRA men and women played the finals against Egypt's El Sharkia men and Telkom Kenya women respectfully.
It is expected that the Ghanaian clubs will shine at home.