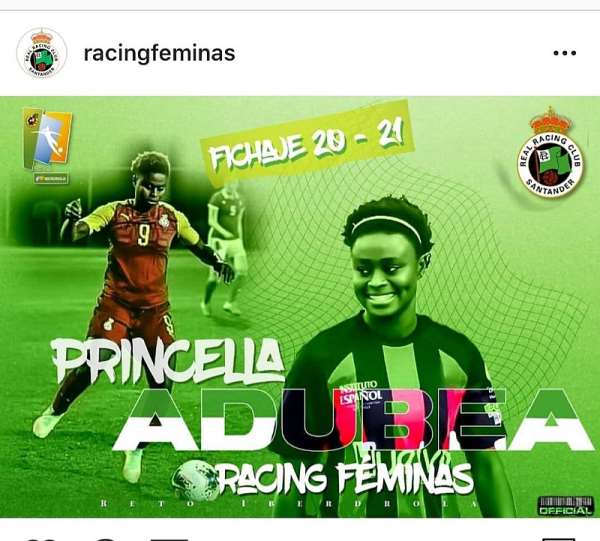 Ghana striker, Princella Adubea says she is delighted to join Racing Femenino after making the switch from Spanish Femenino Primera B outfit Sporting Huelva.
Following an outstanding performance in the Spanish women's top-flight league during the 2019/2020 football season, the former Ampem Darkoa Ladies lethal striker has secured a transfer to a new club.
"Transfer. From specific African lands of Ghana. Another great signing for this season 20-21 Princella Adubea welcome and many football afternoons", a statement from Racing Femenino said on Thursday morning.
In a post on Instagram after the deal was completed, Princella Adubea has shared that she is overwhelmed with join to join the new club.
"I am very happy to join a new family Racing Feminas. Thank you for believing in me. We are here to win. I will make the people of Santander proud", she said.
The 21-year-old attacker further appreciated her formal club for the time she spent with the side before earning this transfer.
"I also extend my gratitude to the Sporting Huelva family for believing in me. It was nice to be with you guys", she posted.