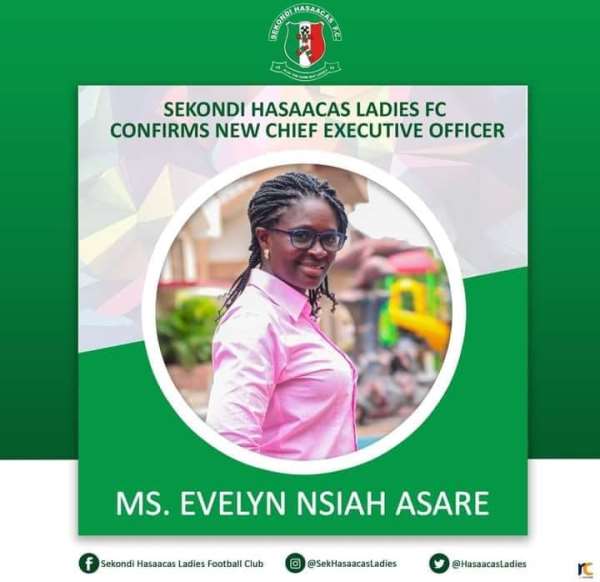 Football administrator, Miss Evelyn Nsiah Asare has been confirmed as the new Chief Executive Officer (CEO) for Women's Premier League club Sekondi Hasaacas FC.
Having served as a management member of Hasaacas Ladies, the leadership of the brand Sekondi Hasaacas Football Club has decided to elevate her to the position as the CEO of the women's club.
An official club statement today has said: "Sekondi Hasaacas Football Club is delighted to announce that Ms. Evelyn Nsiah Asare Owusu has been elevated to the position of the Chief Executive Officer of Sekondi Hasaacas Ladies Football Club effective August 1, 2020".
The appointment goes to show the enormous work she has put into the development of women's football in the country in the past few years.
Just recently, Miss Evelyn Nsiah Asare was named as one of the 12-member board of directors for Kumasi Asante Kotoko. She will now work for these to top clubs in the country as she plays a role in the development of the sport in the country.
About Miss Evelyn Nsiah Asare:
Ms. Evelyn Nsiah Asare has worked with several multinational companies across the country. She has vast experience in the football fraternity, telecommunications, logistics and supply chain management, and has taught at several institutions, the latest being the Sunyani Technical University.