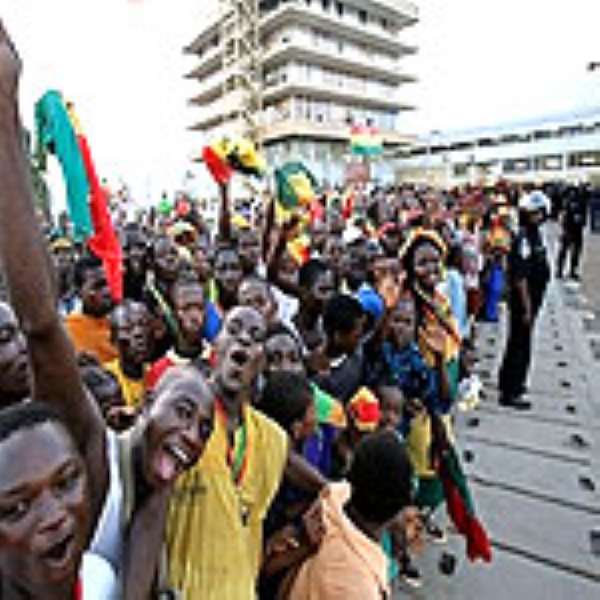 Fans welcome Black Stars
Mr Kwamena Bartels, Minister for Information and National Orientation has assured thousands of soccer fans who thronged the Independence Square and were not able to catch a glimpse of players of the senior national not to worry as his Ministry would organise a special float on Monday, which is a holiday, from the Nkrumah Circle to the Castle for all fans to see their heroes in person.

The Minister was forced to make the new arrangement, which was not part of the official welcoming party after the crowd at the Independece Square surged forward when they saw the bus conveying the team from the airport, forcing authorities to abort previous plan that would see the team get down from their bus at the Independence Square.
The Minister assured the huge expectant crowd at the Square after they only had a few minutes to see their heroes who only circled the venue, sitting in their buss because of the huge uncontrollable crowd.
Mr Bartels said the team was not able to get down to respond to their cheers because most of them were tired after the long flight from Europe but assured all that they would see all the players physically on Monday. He said Monday's float would start from Nkrumah Circle through some principal streets of Accra and end at the Castle, Osu where the President would have a special reception for them and unveil the government's special package for them. Monday's float will have an added significance because the day has been declared a public holiday because this year's Republic Day fell on Saturday.
Papa Owusu Ankomah, Minister for Education, Science and Sports thanked Ghanaians for their support for the team during the tournament. He told the crowd at the Independence Square that the team really appreciated all that they did for them before and throughout the tournament. The Minister, who returned from Germany with the team said the Stars performance at the tournament won Ghana and for that matter, African Football a lot of respect.
During Ghana's opening match with Italy, Franz Backunbuer, Chairman of the Organising Committee told me that the Stars will be the revelation of this tournament. I am glad to tell you that the kind of football we sold to the world left most football enthusiasts and experts who came to the World Cup spell bound and won respect and admiration of all.
Papa Owusu Ankomah promised that the spirit of nationalism and patriotism sowed into every Ghanaian by the achievement of the national team would not be allowed to die but would be built upon to push the country to greater heights. Some of the artist who performed at the musical carnival that dragged deep into the night were Amakye Dede, Miss Bell, 4x4, Adani Best and Alhaji Sidiku Buari.