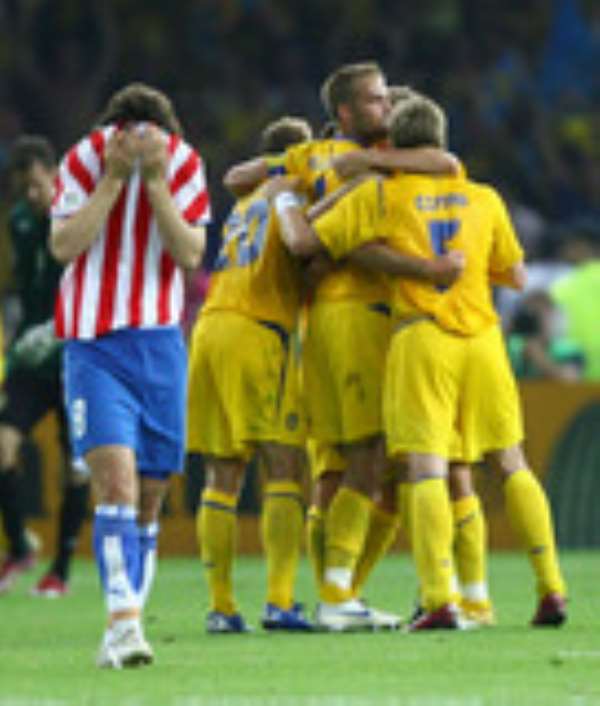 Sweden captain Olof Mellberg was once neatly summed up by team-mate Mattias Jonsson as "a player who goes in 100 per cent, all the time, for every second of the match".
It was a perfect portrayal of a centre-half once described as "the complete player" by his national coach, Lars Lagerback, and the never-say-die spirit to which Jonsson refers was never more crucial to the Swedish cause than in the dying minutes of Thursday's match with Paraguay at Berlin's Olympiastadion.
With the seconds ticking down towards a potentially costly goalless draw and Lagerback's side seemingly running out of ideas, Mellberg's booming words of encouragement for his colleagues turned into a roar of delight as Freddie Ljungberg popped up to head an unlikely late winner.
Sweden, like their skipper, had continued to give everything, right until the very last seconds of the match and, barring a combination of defeat by England and a convincing win for Trinidad and Tobago against Paraguay, their reward will be a place in the round of 16.
Get the latest news from Group B
That, in turn, will give these FIFA World Cup™ veterans an opportunity to erase the memory of that golden goal from Senegal's Henri Camara at an identical stage of Korea/Japan 2002, with neither Germany nor Ecuador - the teams lying in wait - likely to faze the Swedes too greatly.
However, in an exclusive interview with FIFAworldcup.com, Mellberg revealed that there is no chance of his gaze straying to the next round when a match against England – the country in which he plays his club football for Aston Villa – looms large on the horizon.
FIFAworldcup.com: Olof, what are your reflections on the Paraguay match and, of course, that incredible finale?
Olof Mellberg:I thought it was an excellent game and, from our point of view, I'm just delighted to have got the win. We played well in the game, but then I actually thought we played quite well against Trinidad and Tobago, and you see with how tough England found it against them that they're no bad side. What we have found difficult so far in this tournament, for whatever reason, is converting our chances and that's why it was such a massive relief when Freddie's header went in. That was a really great moment.
Do you think the support you received your fans gave inside the Olympiastadion helped inspire you?
Absolutely. What can I say about our fans? They're fantastic; unbelievable, really. To have 50,000 of your own countrymen in a stadium like that cheering you on – and don't forget this is still just the group stages – it's pretty incredible. The boys were all talking about it afterwards and everyone is delighted to have been able to give them something back because those fans kept on supporting us until the very end, even when it looked like (a goal) might not come. As a player, you don't get to experience nights like that many times in your career, so you try and make the most of them. That said, you can only really enjoy them when you win, and thankfully we did that.
Would you say it was a deserved victory, given that you monopolised possession and carved out the better chances?
Oh, definitely. We had most of the possession and almost all the chances. Paraguay had a couple of decent long-range efforts, but I don't think they managed to get too close to our goal the whole game, whereas we missed some good, good chances. So yes, I feel it is definitely deserved because we worked hard together and tonight shows that if you do that and keep trying until the very end, you often get your reward.
Although Sweden have not officially qualified yet, you must feel that you go into the England game with the pressure taken off to a certain extent?
Yes, I think that's fair to say. Paraguay was the really big game for us – the key game in the group – and I think that you see from the way both teams reacted to the goal and at the end of the match how important it was.
Now it's on to England, of course, a team Sweden have a terrific record against (having not lost in 11 matches stretching back to 22 May 1968).
We do have a great record against them, although I do think that it's going to be tough this time because I don't think we've ever played such a strong England team as the one they have at the moment. It's certainly the best English side I've ever faced during my time with Sweden. From back to front, they're a team with huge talent, and although we'll go in thinking positively and playing to win, I don't think we should pretend that it's going to be anything other than very difficult for us. It goes without saying that I'm looking forward to it, though. It's always interesting when Sweden play England and, on a personal level, I've played against all their players so many times, both in internationals and in club games with Villa.
You're also almost certain to come up against a certain Wayne Rooney after his comeback against Trinidad and Tobago. Is that a prospect you're relishing?
Of course. I think you always want to test yourself against the best players and Rooney is certainly an excellent footballer. If he's fit, there's no doubt he's one of England's most important players.