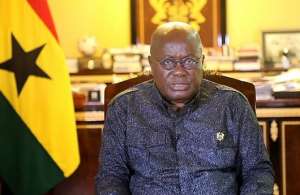 When a rich country like ours is being managed by political comedians incapable of finding alternative ways of solving problems, then we must all be worried especially when all that they are good at is creating filthy- scathing scandals of corruption just to satisfy their insatiable orgies for wealth and to them, it doesn't matter if everyone perishes.
How can building 94 hospitals be justified as an immediate intervention to tackle a ravaging pandemic that's killing people instantly... how..how? How can a President develop the courage to make such a pronouncement as if he was addressing a bunch of undecided naive people.
Building hospitals is a great idea that everybody will welcome but we are faced with crises, a pandemic that is wiping humans ... building a hospital for the future cannot be an intervention for a situation such as the one we have at hand
Lifting the lockdown is another low point ... the poverty of intellect, the poverty of logic, and reason in govt's decision to lift the lockdown is shocking! Now Ghana is flagging over 2000 cases of COVID19. The economic and social sciences premised as the basis for the lifting were risible. None of them makes sense considering the fact that we did not meet any of the six criteria a lockdown country must meet before lifting according to WHO.
Again govt's social intervention policies rolled out were disastrous, reminiscent of a govt that lacks strategic thinkers ... which serious government shares cooked food as a social intervention in a crisis period such as this?
Before the lockdown, no thinking went into it; we locked down because people were shouting Mr. President lockdown, Mr. President lockdown...and our President followed suit without any plan in sight... no wonder we couldn't sustain the lockdown beyond 3 weeks for just 4 areas despite all the noises Bawumia and his likes of economic liars had earlier said about the economy being robust, solid, etc...
A Government that cannot provide common PPE'S which are basic things required to tackle the pandemic for even hospital but for the benevolence of Jack Ma and his Alibaba group, only God knows what would have happened to us ...
The whole concept of governance has dramatically turned into a theatre display... with too many comic characters playing comic-oriented roles while their fanatics watch in ecstasy and masturbate. ....until we begin to enlist reasonable men to oversee the affairs of this country by walking away from the excesses of partisan madness... our economic emancipation will continue to remain a dream impossible to achieve.
Very often we hear from the corrupt media, singing choruses of praise for the President, and the question is.... for what? A media that is supposed to subject politicians and Power wielders to critical scrutiny has become bootlickers and unrepentant sycophants...while we look up for a firestorm of eviscerating media, we only see a bunch of jokers and greedy men dressed in fine coats pretending to be overly intelligent, but the truth, they are not .. some are noise boxes empty and hollow while others are political guns for a hire ... just for the right price!
Verily verily I say unto you, there's no redemptive alternative aside change,.I'm Ivan and I'm no cynic... antiquity is my area of specialty!! Time to wise up !!
Ivan Kyei Innocent/[email protected]