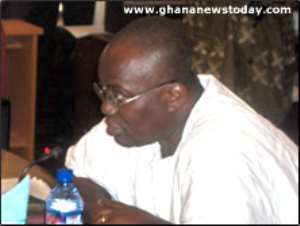 The Minister of Foreign Affairs and NEPAD, Nana Addo Danquah Akuffo-Addo says Ghana will continue to play an active role in helping to resolve conflicts on the continent, and ensure that they never happen again.
Nana Akuffo-Addo made the statement at a flag-hoisting ceremony celebrating Africa Union Day in Accra today.
Nana Akuffo-Addo said peace and democracy will provide the basis for regional integration initiatives which will then lead to political stability and the promise of development.
The success of these initiatives, the minister added, depends on effective training and an adequate human resource.
"The success of our regional integration programs will depend to a large extent on the training of the requisite human resource which will be equipped with the skill to handle multi national projects".
The minister pointed out that one of the key challenges facing the African Union is its model for the acceleration of economic development.
He said Africa's desire to be part of a developed and prosperous world can only be achieved if member states pool together the wealth of the continent.
Later in an interview, the UN representative in Ghana Douda Toure said the unification of African countries is the surest way to eradicate poverty on the continent.
" I have done it and they had much more probed region and all to the minutes Europe has fault among themselves, it did not prevent them from coming today. We are moving towards international integration, so why not Africa, after all we have not had those scares in our relationship and the people are the same".
"We have a common history so indeed I firmly believe that if we are politically committed, there is indeed every chance that Africa can also get united".
The theme of the day's celebrations was 'working together for regional integration and development'.