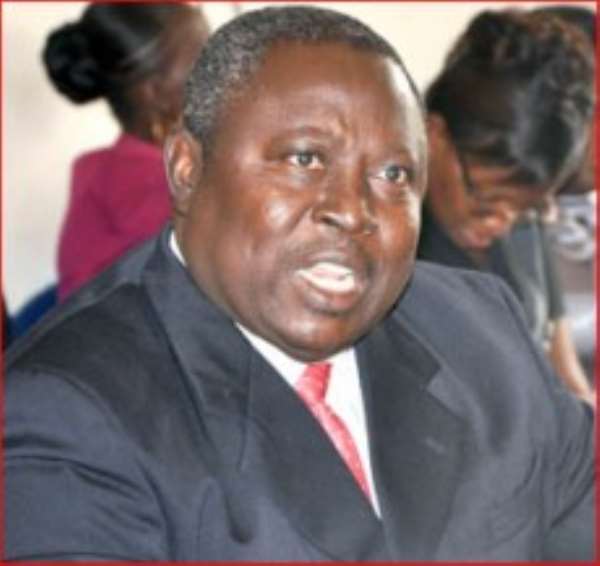 Martin Alamisi Burnes Kaiser Amidu popularly known as Citizen Vigilante or Mr. Gargantuan is a Ghanaian politician Known for his anti-corruption chants, Mr. Amidu has over the years won the hearts of many with his so-called anti-corruption campaign but what many didn't know about him is the fact that his holier than thou attitude is a mere farce created to fool the unsuspected and in fact, he isn't and has never been a man with altruistic motives .. vindictiveness is what drives his passion!
This is a man who shot himself to fame with his fixation on the infamous Wayomegate after his failed bid to become Ghana's vice President in 2000 with the late Professor Mills and his subsequent ejection from office as Attorney General by same Prof.Mills on January 19, 2012, for misconduct!
After being thrown out as AG by his former boss, Mr. Martin reincarnated and asserted himself as the new thorn in the flesh of the NDC who succeeded in terrorizing the party with his so-called epistles of which many were written out of sheer frustration and bitterness with loads of baseless claims, bogus allegations and recycled accusations nevertheless he managed to fool many and added a lot to his plate of fame which untimely won him the name " Citizen Vigilante" which he never was and has never been!
What many didn't know and still don't know about Mr. Amidu, ( thank God his real character is folding for all to see the real Mr. Amidu), is the fact that, he is a very bitter man who is consistently driven by passionate hate, bitterness and vengeance, a man marked with undying envy and unmitigated fury, always charged to the fullest to seek political vendetta against peole he perceived as enemies.
Martin's hatred for the NDC grew to a fever pitch who through unofficial commissioning joined arms with the then opposition party, the Npp and together with their media surrogates launched a popular "regime change agenda" which ultimately resulted in the NDC losing 2016 election to the Npp and Akuffo Addo.
The Npp and its leader, as a token of appreciation for Mr. Martin Amidu's immense support and contribution for their 2016 electoral victory handed him the job of a Special Prosecutor with a clear intention of capitalising on his rage and fury to seek political retribution against officials in the erstwhile Mahama administration. If that not being the case, one would wonder why someone who claimed to be an anti corruption crusader, after being armed with powers and privileges sourced through a constitutional addendum rendering him formally eligible to go after corrupt officials would refuse flatley in many clear instances to go after many corrupt officials under the current administration.
Mr. Amidu has miraculously become so ineffective and has consistently being throwing in his way flimsy excuses to justify his failure... but same person has never relented or shown a any bit of hesitation to buck in matters involving people in the NDC ! Hate must be a terrible thing killing Martin Amidu slowly right?
This is a man who turned down an offer to investigate the scathing PDS scandal, (one of the most filthy political scandals to hit Ghana in modern times) after a formal petition was written to him and many other formal complaints involving other scandals have equally been thrown out with dumb jurisdictional excuses !
But what most find intriguing and interestingly is that, the same Martin Amidu recently came back and told Ghanaians that his office had received a complaint to probe into the so called Airbus scandal, a comment which raised lots of questions about what could be his real motives and convictions after refusing to investigate several cases of corruption under this current administration. Remember corruption under Akuffo Addo has become a way of life,.a very common phenomenon just like the 80's and this popular music genre called the funky! So as a special Prosecutor getting yourself busy is the easiest thing to find but not Martin Amidu, the nuisance talkative !
Clearly his posture depicts a hired-man on a mission and by getting into matters involving the NDC and John Mahama's, for him, that is Christmas and that becomes an area of speciality which he pursues with the alacrity of a mad lion
as he joins the Npp and their media surrogates to pry on fragments of bogus allegations surrounding the Airbus saga.
We woked up some few days into a new scathing scandal involving an appointee of Akuffo Addo's government: The CEO of TOR Mr. Asante Berko.
The ugliness of the situation has even forced the man at the centre of this filthy scandal to resigned from his post as he readies to battle his fate in the US where a lawsuit has been filed against him for his role in a fraudulent deal involving a whopping $4.5 million while acting as an Executive at the Goldman's London Subsidiary !
It is that perceived part of that money had been used to support and finance Nana Akuffo Addo's 2016 campaign but interestingly Martin Amidu's long love letters have ceased to flow on this ugly development and same goes for his dramatic epistle of political insinuations, maybe just maybe he hasn't heard because of the Coronavirus outbreak.
Pray : "May the good Lord grant all cowards the moral courage and fortitude to remain loyal and truthful to their convictions"
The Bible still remains my witness
I am Ivan,.im no cynic and nothing annoys me than moral pretence ! .
Ivan Kyei Innocent/ [email protected]