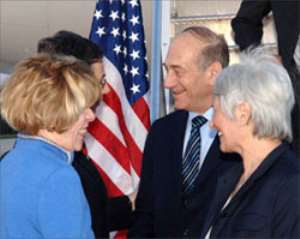 A US-Israeli summit at the White House is set to discuss Tel Aviv's plan to impose a West Bank settlement on the Palestinians by relinquishing most of the Israeli-held territory to them.
While Ehud Olmert, the Israeli prime minister, might not get a conclusive answer from the US president on Tuesday, he is likely to be looking for clues as to whether the US will insist that his plans to carve up the West Bank be approved by Palestinian leaders.
Two years ago, George Bush gave Ariel Sharon, the then-prime minister, approval to eventually absorb a handful of Jewish settlements near Jerusalem in the event of a peace accord.
Olmert's attempt at presidential approval of a unilateral approach is enhanced by the fact that both the Bush administration and Israel have ruled out negotiations with the Hamas-dominated Palestinian Authority.
Olmert and Bush are also expected to discuss Iran.
Olmert also has talks planned with Donald Rumsfeld, the US defence secretary, with Dick Cheney, the US vice president, on Wednesday, and Dennis Hastert, the House of Representatives speaker.
He will also speak to a joint meeting of Congress.
Also on Monday, a diplomatic official in Washington said the Bush administration is soon sending two of Middle East envoys, David Welch, the assistant secretary of state, and Elliott Abrams, of the National Security Council, to the region to gather information about Olmert's plans.
Olmert intends to impose his own terms during the next two years, retaining part of the occupied West Bank, but assuring the Palestinians a state on land of their own.
Nothing formal
Tony Snow, the White House spokesman, said on Monday he did not expect anything formal to emerge from Tuesday's White House meeting.
Similarly, Daniel Ayalon, the Israeli ambassador, said: "We must all examine different options to break the stalemate, and all these issues will be discussed between Prime Minister Olmert and President Bush as a very good and trusted friend."
The newly elected prime minister arrived on Sunday on a three-day visit in Washington and met Condoleezza Rice, the US Secretary of State, on Monday evening for a preparatory meeting before Tuesday's talks.