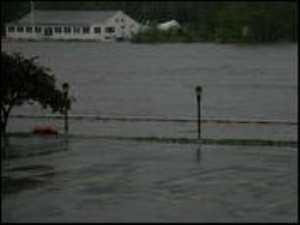 Sewage is being dumped into the Merrimack River at a rate of 35 million gallons a day, thanks to massive flooding in Haverhill. That's the equivalent of 53 Olympic-sized swimming pools each day.
The problem is a broken 42-inch sewage main in Haverhill. According to city and state officials, a temporary fix will not be in place until at least Friday.
Governor Romney says he does not expect the wastewater to impact public drinking water supplies, but he is concerned about the environmental impact. There are shellfish beds downstream from the break.
A regional wastewater treatment plant in Lawrence could end up adding to the problem. Floodwaters are threatening to shut down power at the plant, which would in turn send an additional 115 million gallons of sewage into the Merrimack each day.
Homes that are serviced by well water should beware of the floodwaters from the Merrimack. If your well is submerged in water that could contain sewage runoff, it needs to be sanitized and tested before drinking the water.