Poverty In Ghana: Would It End By 2030?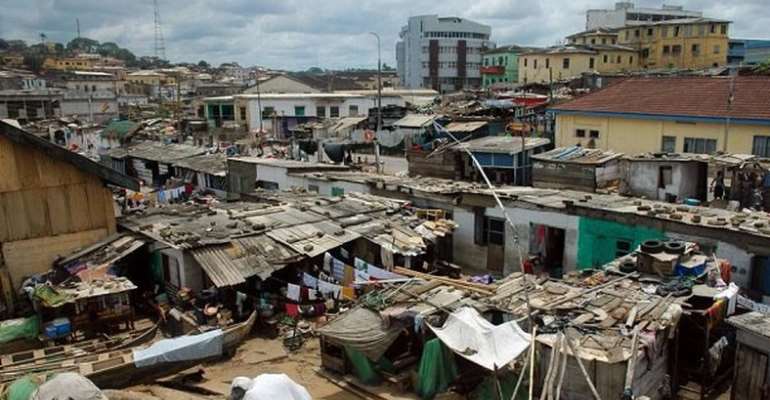 At his 4th State of the Nation Address to parliament, President Nana Akufo-Addo said his government is committed to addressing issues of social welfare protection in the country.
According to him, the government is taking steps to ensure that only the poor benefit from social interventions. All these are part of efforts to eradicate poverty in line with the United Nations Sustainable Development Goal 1.
Elaborating on this, the president said: " Mr. Speaker, the Ghana National Household Registry (GNHR), in collaboration with the Ghana Statistical Service, is collecting data on all extremely poor households in the country through inter-institutional coordination, to ensure efficiency and effectiveness in social protection spending, and duplication in targeting and selection of beneficiaries for social protection programmes".
According to the SDGs web booklet, about 800 million people around the world still live on less than $1.25(in Cedi equivalent6.68). Ghana is not left out of this statistic. Since 1987, the Ghana Statistical Service (GSS) has conducted Ghana Living Standards Survey with the aim of measuring the living conditions and well-being of the population.
Poverty is a state or condition in which a person or community lacks the financial resources and essentials for a minimum standard of living. Poverty means that the income level from employment is so low that basic human needs cannot be met. Poverty-stricken people and families might go without proper housing, clean water, healthy food, and medical attention. Each nation may have its own threshold that determines how many of its people are living in poverty. (Investopedia November, 2019).
As Investopedia captured it rightly, the determinants of the poverty index vary between nations. The 2018 GSS Survey reports that 6.8 million Ghanaians were poor. Inadequate access to clean water and nutritious food, unemployment, conflict, inequality, poor education, climate change and lack of infrastructure are some of the causes of poverty in the world and Ghana is not exempted.
In an October, 2015 World Bank report titled Poverty Reduction in Ghana: Progress and Challenges, it stated that Ghana's strong economic growth in the past two decades helped cut the country's poverty rate by half, from 52.6% to 21.4% between 1991 and 2012 and this was based on Ghana's national poverty line. The report also states that Ghana made some significant gain in poverty reduction. Ghana's annual growth in Gross Domestic Product (GDP) was up by 8% in 2006, rapid growth cut the poverty rate from 52.6% to 21.4% resulting in extreme poverty down to 9.6% in 2013 and a better educated people form part of the nation's progress.
The existence of poverty is a threat to human survival and when children are made to endure poverty and hardship, it affects not only their lives but their health, education, family and so on.
Studies have shown that family income impacts on children's lives and development in a variety of ways. Living on a low -income increases parents' stress levels. Poverty can result in bullying and also making children excluded and embarrassed.
The Child Poverty Action Group in the United Kingdom says "People living in the most deprived 10% of areas will die nine years younger than those in the richest 10%" and this is even worse for children as they are more likely to contract deadly diseases.
Government of Ghana flagship programmes aimed at poverty eradication.
In 2008, the government of Ghana implemented Livelihood Empowerment against Poverty (LEAP), a plan to empower the extremely poor financially, increase basic school enrollment among children of poor households, reduce the infant mortality rate, improve child nutrition, and grow local economies.
The Ghana School feeding Programme (GSFP) introduced in 2005 is an initiative that aims to reduce hunger and malnutrition, increase school enrollment, attendance and retention and boost domestic food production in deprived communities of the country.
In a research paper titled Alleviating Poverty in Ghana – The Case of the livelihood Empowerment Against Poverty(LEAP), Emmanuel Debrah after assessing the intervention arrived at the conclusion that "This paper has demonstrated that the LEAP strategy failed to lift the poor from the poverty baseline, suggesting that there is the need to shift emphasis on poverty alleviation from the single-targeted approach to a multifaceted one"
A December, 2018 publication from myjoyonline titled "School Feeding Coordinator suspended" showed that this intervention had been bedeviled with fraudulent deals. The Gender and Social Protection Ministry had received a report from the National Security which contained some very worrying accusations.
Catering contracts for some schools which do not exist but have been awarded to fictitious caterers who have been paid a total of GHS141,075.
Enrolment figures of some schools under the GSFP did not tally with figures of the Ghana Education Service (GES) for the 2017/2018 academic year.
This must be of great concern to us as a nation that officials entrusted to manage an intervention targeted at the poor have chosen to be corrupt and also rob the poor. It is some of these acts that slow our progress in ending poverty for good.
Some Ghanaians are of the view that the Free Senior High School policy popularly known as Free SHS is a pro-poor policy. In an article by Mustapha Hameed on citinewsroom.com titled "A moral case for Free Senior High School education," he stated that "Free SHS like any pro-poor policy or any policy intervention for that matter has its own challenges". Those who perceive Free SHS to be a pro-poor policy argue that education is one sure way to the bridge the gap between the rich and the poor and this will make a greater part of the population educated and improve the per capita income in the country.
With the adoption of the 2030 agenda, UN member states including Ghana pledged to ensure "No one will be left behind". From now to 2030 is the "Decade of Action" and Ghana must ensure that its social intervention programmes aimed at eradicating poverty are implemented to the latter.