British helicopter down in Iraq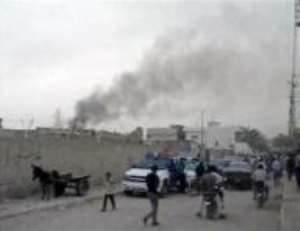 BASRA, Iraq (Reuters) - A British military helicopter was apparently shot down in the southern Iraqi city of Basra on Saturday, killing four people on board, officials said.
British troops securing the site opened fire to disperse youths who threw rocks and petrol bombs at them and chanted triumphant slogans for an anti-occupation Shi'ite militia force.
After small blazes flared on several British armored vehicles, soldiers opened fire, some with baton rounds. Witnesses said at least three people were hit. One man appeared to be dead, a local journalist said.
British defense officials confirmed one of their helicopters was down and that there were casualties. The Basra police spokesman said it was hit by a rocket and firefighters said they found four charred bodies on the aircraft, which hit a house.
There were no casualties on the ground, police said.
British military sources confirmed that ground fire seemed to be the likeliest explanation for the crash. It was not clear what type of helicopter was involved.
Dominated by the Shi'ite Muslim majority now in control in Baghdad, Basra has seen less violence than cities in the north. But friction between the occupying force and militia groups like the Mehdi Army of cleric Moqtada al-Sadr does flare up.
"Victory to the Mehdi Army!" chanted the crowd of young men that gathered at the crash site, close to the local governor's office in the center of the city.
"We can confirm it was a British military helicopter that has crashed and an investigation is ongoing," a British military spokesman in London said.
Basra police spokesman Lieutenant Colonel Kareem al-Zaidi said: "A Multi-National Forces helicopter was hit by a rocket and went down on houses in central Basra."
GOVERNMENT
Sadr, a firebrand in his early 30s demands an end to the U.S.-led occupation. He is a key figure in the Islamist Alliance bloc that will lead a new Iraqi government.
In September last year, British forces clashed with Mehdi Army militants after two undercover British soldiers were seized in Basra. The British public was startled by images of a soldier escaping an armored vehicle, his uniform in flames.
Senior British officers have complained that rival Shi'ite militia factions have effectively taken control of different elements of Iraq's second city, close to the Gulf and the border with Shi'ite Iran, 550 km (340 miles) south of Baghdad.
Prime Minister-designate Nuri al-Maliki of the Shi'ite Alliance was engaged in more talks on Saturday with representatives of Iraq's ethnic and sectarian minorities, trying to forge a government of national unity.
Five months after a well-supported and peaceful election brought hopes of a break with three years of violence, Iraq still has no full-term government. But Maliki, nominated two weeks ago, says he hopes to form a cabinet shortly.
Sectarian blood-letting has increased since the destruction of a major Shi'ite shrine in Samarra in February, prompting warnings of civil war and adding to pressure from Washington and London for Iraqis to settle their differences quickly.
Both the United States and Britain are keen to withdraw as many troops as possible as quickly as possible and are building up Iraq's own army and police to that end.
SUICIDE BOMBER
Three Iraqi army officers, including a lieutenant-colonel, were killed inside their base by a suicide bomber in Saddam Hussein's home town of Tikrit on Saturday, police said. The battalion commander, a colonel, was wounded.
It was not the first time a Sunni Arab insurgent had dressed in army uniform and evaded identity checks to penetrate security cordons and attack Iraqi soldiers.
Sunni Arab insurgents, including al Qaeda's Abu Musab al-Zarqawi, have said they are taking their battle to the Iraqi forces, targeting recruiting lines and senior officers.
Before Saturday, 104 British troops had died in Iraq. Around 8,000 are deployed there.
Ten aircrew were killed north of Baghdad in January 2005 when their Hercules transport plane lost its wing and crashed after rifle fire had set a fuel tank ablaze. The lack of protective equipment on the plane has been a source of political controversy for the British government in the past week.
Helicopters have been much more vulnerable to ground fire, including rifles and rocket-propelled grenades. Rebels boast of firing guided missiles. On April 1, a U.S. Apache attack helicopter was brought down near Baghdad, killing its two crew.
A U.S. soldier was killed by a roadside bomb in Baghdad on Friday, the military said on Saturday. A Polish soldier was slightly wounded by a bomb in the southern city of Diwaniya.