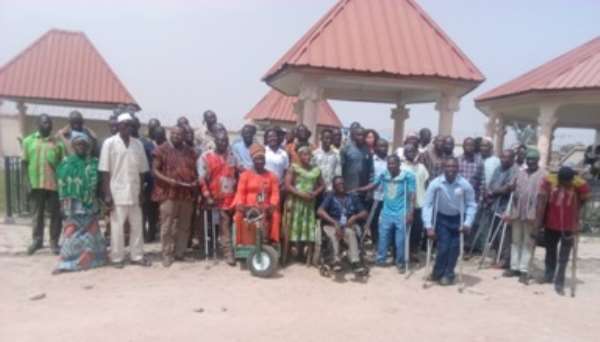 The attention of Friends of Hon. Hajia Alima Mahama (FoHHAM) has been drawn to a story by Mr. Mohammed Fugu in the Saturday 25th January 2020 edition of Daily Graphic, with the mischievous heading above. The heading of the story is completely misleading and seeks to create a picture of some sort of wrongdoing on the part of the honorable Member of Parliament and Minister of Local Government and Rural Development, Hajia Alima Mahama. Below are the facts of the matter;
Even though the writer of the story has created the impression that the beggars have been in the place only recently, it could not be farther from the truth. The house has been there since the early 1970's and the beggars sit there for alms because that is the route to the main Nalerigu market. To say that the house was besieged, nothing could be farther from the truth than that since people including persons with disabilities (PWDs) seeking alms have been sitting there for over four decades now. They have been in their current location since the youthful days of the MP, Hon. Hajia Alima Mahama. At the time they started sitting there, her late father was still alive and saw no need to sack them. It's been 30 years since his death and his family see no reason why they should chase away the beggars that their father allowed to stay.
None of the beggars, or anyone mentioned in the story attributes any wrongdoing on the part of the honorable minister. It is therefore curious that a reputable newspaper like the Daily Graphic will use the heading "PWDs lay siege at local government ministers residence" when in reality the beggars are benefitting from the kindness of her family and good self.
We wish to reiterate the fact that Hon. Hajia Alima Mahama's name and residence has been mentioned in the story for mischievous reasons, which is very unfortunate and unprofessional.
In conclusion, we will like to ask Daily Graphic to apologise to Hon. Hajia Alima Mahama for their unsuccessful attempt to tarnish her hard won reputation. The story has the tendency of marring the excellent relationship that has existed between the beggars and the family of the MP, and Daily Graphic should be willing to take the responsibility for any such happenings in the future.
LONG LIVE HON. HAJIA ALIMA MAHAMA, LONG LIVE THE TRUTH.
Signed
Simon Suayam
Coordinator, Friends of Honorable Hajia Alima Mahama, Nalerigu