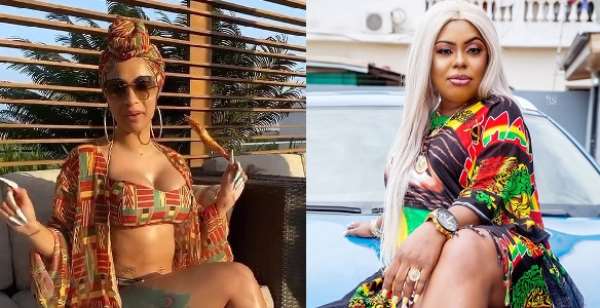 Following the intemperate raining of abuse by some self-styled Ghanaian celebrities, notable among them, Ms. Afia Schwarzenegger, the infamous foulmouthed "slay queen," who claimed to have been snubbed by American Hip-Hop megastar Cardi B, during the latter's two-nation professional tour of Nigeria and Ghana earlier this month, the multiplatinum-selling singer-artist released a statement on a videoclip in which the Bronx, New York native questioned the common sense and manners of Ms. Schwarzenegger and her hoodlum pack of slay queens (See "None of You Had the Guts to Approach Me at the Pool – Cardi B Blasts Female Celebrities" Ghanaweb.com 12/9/19).
Well, it turned out that Cardi B's booking manager and some of the protocol officials of the Hip-Hop diva's entourage had not been informed of any meet-and-greet affair that she had been scheduled to hold with Ghana's local slay queens. Now, there is a quite funny aspect to this story, which is that Ms. Schwarzenegger, Moesha Boduong, I suppose, and another slay queen by the rather corny sobriquet of Hajia4Real, as my 12-year-old younger son would say, had actually visited the poolside at the Kempinski Hotel, in Accra, where the American Hip-Hop megastar had decided to relax and chomp on some shish-kebabs with several of her band members and performers, jitterily peeked at her with suppressed disappointment, and hurriedly left to lambaste Cardi B on social media.
Now, I don't know what Ms. Schwarzenegger and her platoon of playboy-cum-gossip retailers were thinking about. For, as Cardi B pointedly observed in her videoclip riposte to these self-styled slay queens, it was rather inexcusably stupid for the Schwarzenegger Gang to have so facilely presumed that she, Cardi B, was on the same page as these vitae or résumé-padding slay queens vis-à-vis the existence of any preperformance meet-and-greet session. In short, according to Cardi B, the least that the Schwarzenegger Gang could have done to demonstrate that they were bona fide Ghanaian celebrities with class, was to have politely reached out to her and demanded to know why the Hip-Hop diva clearly appeared to be pursuing a very different program agenda, when she was actually supposed to be meeting and bearhugging her local Ghanaian counterparts.
As the Dear Reader can see, this clearly appears to have been where the trouble started, which was that the Cardi B handlers may very well have come to a sobering and scandalous realization that the women who had massed up to meet and greet their world-famous guest, were more akin to a bunch of groupies than the genuine local counterparts of The Cardi. I mean, one would have expected such local legendary acts as Shatta Walle, Wendy Shay, Nana Ama McBrown, Sarkodie, Stonebwoy and such other local heavyweight musical acts to have assembled at the Kempinski to schmooze with their real fellow celebrity artist. Instead, they had these self-infatuated local floozies pretending to be the real deal or the Real [Elijah] McCoy.
Whatever the case may be, the steely fact remains that raunchy language, generally ghetto-uncouth and lawbreaking misbehavior and all, Cardi B undoubtedly showed herself in Ghana, at least, to be an emulative class act that the "name-plagiarizing" likes of Afia Schwarzenegger may do well to learn and copy from. To be certain, the latter gossip gang of floozies did not put themselves and the rest of the country in good light and may do well to promptly and unreservedly apologize for rashly putting their metaphorical feet in their mouths. That is, apologize to both their fellow Ghanaians and The Cardi for putting up such characteristically and scandalously un-Ghanaian behavior.
*Visit my blog at: kwameokoampaahoofe.wordpress.com Ghanaffairs
By Kwame Okoampa-Ahoofe, Jr., PhD
English Department, SUNY-Nassau
Garden City, New York
December 9, 2019
E-mail: [email protected]