Gender Ministry Adds 'Gari Jollof' To School Feeding Menu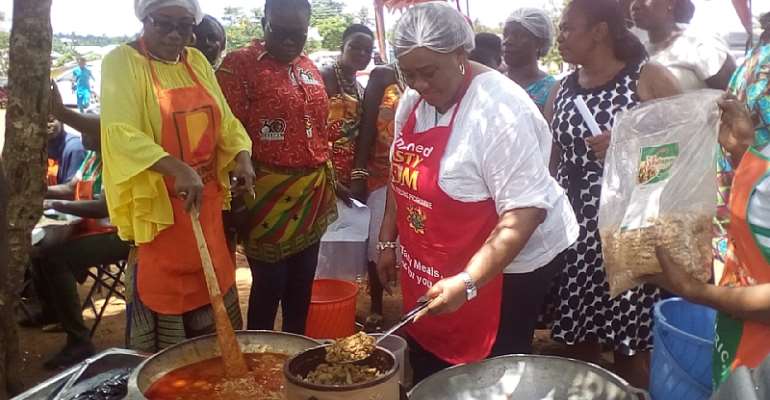 Ministry of Gender, Children and Social Protection has announced that it has introduced a nutritious 'Gari Jollof' into its School Feeding menu to boost the health needs of the school children in Agona West Constituency.
According to the Minister, Mrs. Cynthia Morrison, who is the Member of Parliament for the area, the new menu which is spiced up with soya beans and other ingredients would boost the children's metabolism and increase local production of cassava.
Speaking at a durbar organized by the School Feeding Programme for Chiefs and people of Upper and Lower Bobikuma in the Agona West Municipality of the Central Region on Thursday, to introduce the new meal, Hon. Mrs Cynthia Morrison noted that 'Gari Jollof' would be made up of the local Gari which has become a stable in various home spiced up with soya beans and other ingredients.
"Gari has become stable food in the country especially in our educational institutions. We have added nutritious ingredients to feel our pupils under the School Feeding programme. Gari Jollof is prepared the same as the rice Jollof but we have added Soya beans to make it richer for the pupils.
"Series of training /workshops are being organized for all caterers under the School Feeding Programme to be abreast with nutritious way of cooking the meal. Our Handy Measures are geared towards equipping the caterers and their head cooks to measure up to the required quantity and quality standards of preparing nutritious meal for the pupils and based on the use of the local ingredients.
"It will also generate healthy and nutritionally adequate meals for the pupils. School Feeding programme has increased school enrolment tremendous. The current enrolment figure is over 2,600,000 spread across the country up from 1,786,681 in 2015/2016 figure.
"Our main short-term objectives are, to reduce hunger and malnutrition, increase school enrolment, attendance and retention and lastly to boost domestic food production in our communities. The Development objectives is to reduce poverty and enhance food security. The School Feeding programme, in pursuit of its core objectives, is also providing ready market for the local small holder farmers, thereby increasing income and also serving as an incentive for increased agriculture production. The School Feeding programme will ultimately contribute to poverty reduction and food security in the long term," she emphasised.
Hon. Mrs Cynthia Morrison encouraged parents to send their children to school indicating that, it's the responsibility of parents to make sure children of school going age are sent to school.
"Government will continue to make education accessible to children of all ages. Free education has to come to stay with us and it's therefore our mandate as parents to complement government's effort by sending our children to school.
"The Free SHS policy has opened up the opportunity to many students who hinder to never thought of getting access to Senior High Schools. It's worthy to note that the Free SHS has also reduced teenage pregnancy drastically.
"Children are our property and are our future leaders, it therefore behooves on us to take proper care of them. As parents, we ought to collaborate with teachers to give them the required training. That would be the best legacy we can leave for them as the take leadership mantle," the minister stressed.
The Acting National Coordinator for School Feeding Programme, Dr. Mrs. Gertrude Quashigah led a team of caterers to demonstrate how the nutritious Gari Jollof was prepared.
Chief of Lower Bobikuma, Nana Kofi Yeboah commended President Akufo-Addo led NPP Government for expanding the School Feeding Programme which he said had increased school enrolment in the area.
Representatives from the Agona West Municipal Directorate of the Ghana Education Service including Madam Matlida Swatson, Deputy Director In-charge of Human Resource Management, Madam Susana Danso, Deputy Director In-charge of Finance and Administration and Mr. Hope Akligo , Deputy Director In-charge of Supervision were present to grace the occasion.