Gomoa Central MP Donate Mattresses, Trunks, Others To 50 Free SHS Students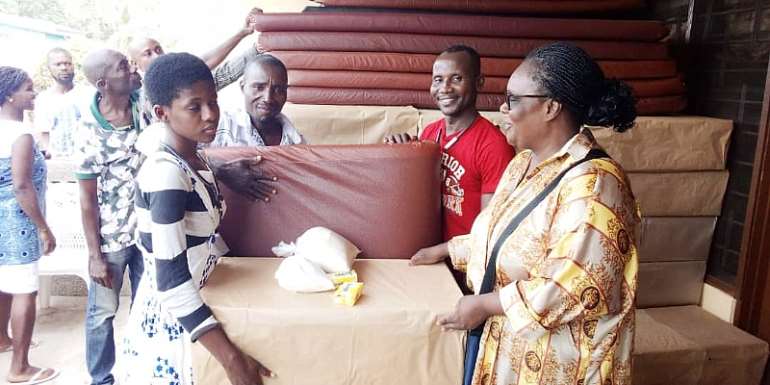 Member of Parliament for Gomoa Central Constituency, Hon. Naana Eyiah has presented school trunks, mattresses and provisions for 50 Gold Track Students who have been admitted into Free SHS policy with a call on parents to take keen interest in the selection of schools for their wards.
According to her, she has observed with concern the stress some parents go through the School Selection and Placement System in getting the prefered choice for their wards.
"We can spare ourselves of this stressful ordeal if we involve ourselves in choosing schools for our children according to their mental strength and capability.
"If we allow our children to choose schools of their choice, their final results could fail them. This is where anxiety set in thus putting undue pressure on parents because each JHS graduate want to enjoy the Free SHS policy to attain height in education.
"It behoves on us as parents to take keen interest when it's time for selecting schools for our wards," she stated.
Hon. Naana Eyiah said this when she presented items to 50 JHS graduates who have gained admission to enjoy the Free SHS under the Gold Track system at Gomoa Ekwamkrom recently.
A total of 100 students have so far benefited from this support from the Gomoa Central Member of Parliament.
Hon. Naana Eyiah also encouraged parents to let their children choose schools that are closer to their communities rather than far-reaching ones.
"I also want to encourage parents and students alike to chose schools that are closer to their destinations. There are enough schools that are closer to our locations and we have to choose them first before considering other options.
"We have Schools like Gomoa Gyaman Community Day Senior High School, Ogyedom Senior High and Technical School and other schools in Gomoa which are closer and less expensive to meet our pocket. They also have conducive environment for effective teaching and learning. These are schools we should select for our children so that we can visit them regularly," the lawmaker emphasised.
Hon. Naana Eyiah who doubled as Deputy Minister for Land and Natural Resources advised the students to take their destiny into their own hands and work towards it.
"Basic School starts at Senior High School level so you must use it as the springboard towards your future endeavors.
"Life is what you make it. Your parents are doing everything within their means to make life meaningful for you, it's up to you to decide what you want to be in the near future.
"As at now, I know many of you have decided your future career either to be a nurse, teacher, doctor, engineer, pilot professional farmer, Member of Parliament or even President.
"As you begin your new level of life be ambassadors for behaviour change in wherever you found yourself. Raise the image of Gomoa Central Constituency.
"To the girls, I want to advise you to stick to your books, shun bad company, avoid early sex which usually ends up in teenage pregnancy and school drop out. Go for the gold and achieve your goals to compliment investment made on your education. Your parents, government and the entire society looks up to you to take the mantle of Future Leadership," she stressed.
Hon. Naana Eyiah urged the students to look up to her as their role model and emulate her humbleness.
"We owe His Excellency Nana Addo Dankwa Akufo Addo gratitude for relieving parents of the financial burden associated with Senior High School admission thus creating accessibility for JHS graduates to access Secondary education free of charge. In those days, admission fees was a major headache for the entire family. Thanks to Nana Addo, it's now history.
"Let me conclude by encouraging the boys to concentrate on their books rather than engaging in anti-social vices like hard drugs and pre-marital sex which would ruin their future. Once congratulations to you. Go and make Gomoa proud," she stated.
The Headteacher of the Gomoa Mangoase D/A Basic School, Mr. Kweku Afedzie on behalf of the parents thanked Hon. Naana Eyiah for the kind gesture.