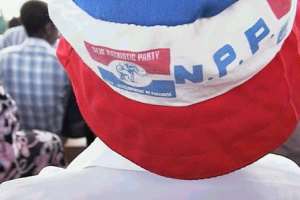 "Under a stable, constitutional democracy, any government which is obsessed with passing the blame to its predecessors and seeing imaginary enemies at every turn can only be regarded as paranoid. And paranoia, as any psychiatrist will tell you, is a consequence of lack of self-confidence and the inability to cope with realities and challenges"
The above quotation is an excerpt of the foreword by Evans Atta Mills captured the 2004 manifesto of the National Democratic Congress. Indeed, the statement reminds me of the political situation at the time. Every single problem whether social, economic, political or all, were attributed to the NDC. Every other single achievement by the country was attributed to the NPP. The NPP used eight good years blaming the NDC regime under president Rawlings.
Going through the archives and make meaning of same, it does appear that "blame game" is part of the political philosophy of the NPP. It is their apparent justification for their crass incompetence, corruption, opulence, and arrogance.
Every Ghanaian can attest to the fact that NPP in opposition desperately blamed the government of the day on every single problem in this country. Then-candidate Nana Akuffo Ado and his parroting running mate, Dr. Bawumia particularly vilified President John Dramani Mahama, called him names some of which I cannot mention. He was accused of being the most insensitive president because of minor increases in fuel price, today fuel price has increased over about 100 percent, it was said that Mahama formed DKM to defraud Ghanaians, it was said that borrowing is a lazy man approach and that borrowing to build was senseless. It was even mentioned that building of hospitals, school blocks, roads and very important infrastructural projects like Kwame Nkrumah circle (Dubai), the Kumasi market, and many others weren't necessary. They promised heaven and earth and ended up deceiving Ghanaians.
Today, they are in power and the fray of blame game remains unabated. For how long will they continue to blame John Mahama for their crass incompetence, I do not know.
They are unable to provide security to the good people of Ghana, they now shamelessly concede that we have infrastructural deficit in our educational sector which has precipitated the double-track system. They have collapsed 100s of financial institutions, local private sector is being killed, and amazingly, they blame the NDC for all of these! How can we reduce governance to this childishness!!
We were in this country when massive infrastructures that were being constructed were described as "Photoshop". Today when they are forced to commissioned what they hitherto claimed to be nonexistent, they shamelessly claim credit for those projects. Our intelligence is being undermined but posterity awaits us!!
Every attempted policy or intervention end up becoming a conduit for corruption. They claim they are fighting illegal mining, use same platitude to take advantage to promote it. Top government officials were caught accepting bribes and promoting illegal mining. Planting for food and jobs fertilizer are being smuggled by party gurus. Do you also remember the army worm issue? The incompetent Agric minister dolled more than 10million fake insecticides. And then the Ameri novation scandal which they wanted to steal millions of dollars. But for the competence of the minority, they would have squandered it. The President told us he was misled and that was acceptable hmmmmm.
Do you remember the Oslo scandal? As for what happened at National Lottery Authority, Ghana Maritime Authority, Ministry of fisheries, Australia visa scandal, Egypt AFCON chop chop and many others I cannot finish enumerating here, the least talk about them the better.
A certain president who radically approached our energy sector challenges by ensuring that today we have excess power that can make Ghana an energy hub in the sub region, another president comes in and complains that we have excess power and we don't need it and that it is needless and reckless to create excess power generation! It is just too amazing!!!
Sometimes I wonder whether political desperation has taken away the common sense and logic of our political leaders.
The fact that Ghanaians are not talking because of fear of victimization doesn't mean that they are that cheap and gullible to accept some of those senseless explanations and justification.
The family and friends government are only here to steal to create a certain political dynasty but Ghanaians will show them very soon. It is just a matter of time. All those who are stealing and defending shall face the laws of Ghana at the right time!!
Denis Andaban
The village boy from DBI