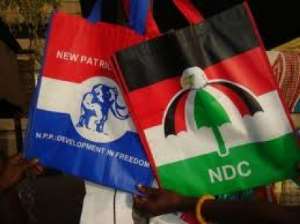 "Our Lives Begin to End on the Day We Keep Silent About the Things that Matter"--M.L King
IT'S TIME FOR OUR politicians to grow a Big pair of balls!
You have heard that phrase before and chances are you know exactly what it means. However, just in case you live under a rock somewhere in Afghanistan and the phrase and its meaning have somehow escaped you, here is the definition: Telling someone to grow balls means he should be bold enough to do something that is right which he knows he should be doing without fear or favor.
In other words, he should "man up" and "quit being a wimp". Now you get it, but please don't turn this into a second -grade's sexual thing. Of course, I'm not talking about physical balls; I'm talking about mental balls.
Yes, that is right, our politicians should come up with bold, unconventional and pragmatic solutions to solve our emerging problems that resonate with the Ghanaian people, but not to box ourselves into the proposal that we know will be disastrous.
Yes, we need people with real 'BALLS' to move the country forward, ASAP before things fall apart.
In fact, we should stop electing 'nice guys'. Nice guys might make great Christian leaders and boys scout leaders, but Ghana needs real 'street fighters', who are not afraid to get dirty; at every level of the government-- to fight for Mother Ghana. Literally speaking!
One of the most damnable parts of being a Ghanaian and living in Ghana is you live in a state of constant doubt and question every move you make: "Was that person trying to dupe me? Or do I have to pay before a free service is rendered? Am I secure in my own home or on our accident-prone and armed -robbery infested roads? Do I have to pay before police take my legitimate case? Do I have time to go to court back and forth for 3yrs or should I let Antoa solve it ?"
This brings us to an article on Ghanaweb on August 9th 2019, captioned "NPP bigwigs grabbing everything--Kennedy Agyapong", which is the basis of this piece.
Combing through tons of comments the article generated (and it surely did )I came across one comment that really pushed my button.
One NPP sympathizer advised Mr. Agyapong:"My man, being in power is better than being in opposition. Please be cautious.....I beg you again it's always good to maintain POWER". Really?
Excuse me! This implies that the guy is operating on the mindset of 'the end justifies the means'. Yep, to protect the NPP from being thrown out of power , Mr. Kennedy Agypong should keep quiet. The same advice has been given to A-Plus as well.
Before I dive right into it, I want to make it clear: I personally hold no special belief for any particular ideology, group, party or school of thought, which I might want to seek --talfiakwa! I consider myself a practical individual who has devoted his very life to guiding Ghana to a brighter future for this generation and beyond, so as for it to live up to its potentials.
Now back to the two "political insurgents". Personally , I don't know Kennedy Agyapong or A-Plus. And I don't necessarily subscribe to everything they say or do, but let's critically look at what they bark about the most, with bifocal lens.
These two gentlemen always talk about "political leakages" and "wastefulness" in the system. And instead of attacking them perhaps we should look at one way of addressing some of their concerns: Reduce the number of Cabinet Ministers. Undoubtedly, many see the number of our Cabinet Ministers as too "bloated" ,for the size of the nation.
Let's take a quick look at this: The legal maximum number of PAID Ministers in the UK is 109, but the government is composed of a Prime Minister and 22 cabinet Ministers. The population of the UK is 60 million. The population of Ghana is about 30 million. Do you want to know how many cabinet Ministers and Deputy Ministers we have ?Just do the maths---Go figure! Now, you wonder why we pan-handle for loans all the time!
For one thing, there is an emptiness in the country--controversies abound and there is no end in sight. For the past two decades there has been lack of opportunities for the average Ghanaian and corruption has become a deliberate wholesale loot of the nation's wealth. And,there has been also unequal distribution of the national resources.
Not only do we have ever growing gap between the wealthy minority and the rest of the nation, but also there has been declining mobility as it has become harder and harder for poor Ghanaians to move up on the socioeconomic ladder.
There is also clearly, a large reservoir of public dissatisfaction of the direction that our politicians are leading us--regardless of what the parties' fanatics say or think.
Anyway, I think A-plus and Kennedy Agyapong are the "best things" that can happen to NPP right now. Hold it ,calm down a little!
"Say what?"Yes, you heard me right! These gentlemen are NPP diehards and they're not only working to keep the party -wreckers at bay, but also keeping the people who want to cash in on Ghana's misery or misfortunes on their toes. Obviously, they're probably very frustrated, disappointed, surprised and agitated about the way 'things' are going and no one is giving them a hearing; that is why they are barking profoundly.
Indeed, on the other side of the Atlantic ocean, people of their caliber are called' "whistleblowers", who are highly praised, admired, celebrated and applauded. But on this side of the planet, they're 'public enemy number one'.
Look, I don't want to sound politically incorrect here, but we live in a country where every institution that supposed to protect us is crumbling. The collapsed of the traditional courts has paved a way for 'political insurgents' to rise. In short, with the help of social media and Fm stations, political insurgents have tilted the national conversation to the direction that no one can control because there is no better outlet.
I recently exchanged a text message with a pro-NPP person, who spoke to me on the condition of anonymity, so as to avoid personal or professional repercussions. She said unequivocally that, "NDC has a bunch of fascists in its chromosome and NPP is full of wimps. And, as a result, there is a high cost to our so-called (infant and fragile) democracy".
No, I'm not wishing ill or "burning bread" on anyone and any party but the plain fact is, the Ghanaians' rage is real and it has nothing to do with party affliction.
And, before you get into the tired diatribe about this piece being some kind of an assault on politicians and Ghanaian leadership, you need to answer these questions honestly: Aren't you all tired of wearing 'kuntukuni' on every weekend, on our accidents and potholes infested roads? Aren't you tired of the unsolved the knapping? Aren't you nervous to hear that half of our students in SHS can't read or write? Aren't you tired of the miseducated and undereducated students our school system is producing? Aren't you tired of seeing our professionals and industrious sons and daughters of Ghana being globetrotters and self-imposed economic exiles because of home- front mismanagement?
Aren't you tired of hearing and seeing the wholesale deliberate looting(corruption) that is going on in every part of the country? When are we going to stop the much bleeding caused by decades-long erosion of jobs for our youths? How are we going to confront the rage of our youths, who are jobless and not ready to negotiate their inflated expectations?
Speaking of the youths, unfortunately, they will inherit the degraded environment, polluted water bodies and soaring national debt that their elders made for them. With no fault of their own, they will inherit a nation choked up with zillion tons of plastic bags with mountainous garbage, a nation that has more churches than factories. Yes, they will inherit a nation without trees or reliable road network.
Why the plight of our youths and ordinary Ghanaians doesn't seem to worry our modern-day politicians anymore? Are you proud of Ghana's accomplishments, vis- a- vis its potentials and resources so far?
Seriously, it does no one any good to pretend that there is never anything wrong with our system or society.
While the NPP or NDC is the subject here, it's only a stand-in for thousands or perhaps millions of men and women in our communities, towns and villages and government 's offices and establishments, and every level of the government ;who are doing everything and anything to frustrate ,confuse and making things harder for all us to move onto the socioeconomic Promised land . And, as long as they're enjoying their positions, with little false security and milking the system to the bone along the way--what a fuck?
Nevertheless, the Ghanaian underclass is suffering in innumerable ways because they don't know their role in the new economic order. The only real solution has to come from where the problem emanates: The Parliament House and the Flag Staff House.
This is not just a paw-wow sound- bite to show one's political agenda, but a wake- up call for all those who have ears to hear because when things fall apart none of us will be at ease.
Perhaps, A-plus and Kennedy Agaypong are barking loudly and uncontrollably because the government has its priorities mixed up. Or perhaps they know something that the rest of us don't know and they have grown a pair of real balls in the process.
I would like to end this piece with a quote from an American historian, and a social thinker, Howard Zinn. He said," Civil disobedience is not our problem. Our problem is civil obedience.....Our problem is that people are obediently filling our jails full of petty thieves while the grand thieves are running the country".
With that, please don't forget to turn the lights off when you leave the room because you can't be neutral on a moving train. And, where you sit determines where you stand on the issues.
Until we meet here again. Stay tuned. Be Informed, educated and concerned.
From, Voice of Reason
Somerset, Nj USA