NPP USA Houston Chapter Swear-In New Executives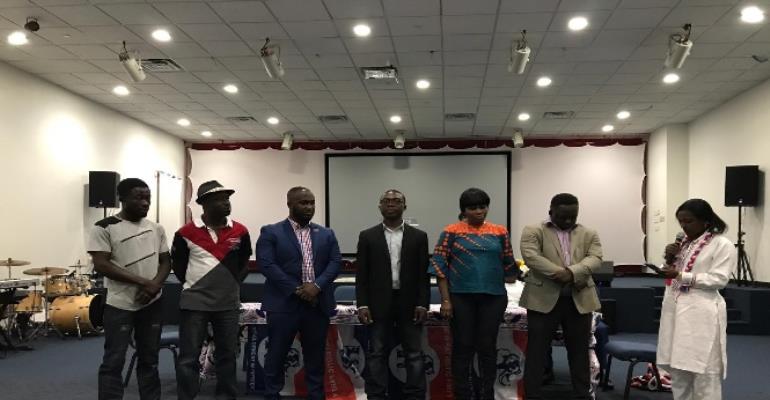 The New Patriotic Party USA (NPP USA) Houston chapter has elected new executives to help keep the defeated National Democratic Congress (NDC) in opposition come 2020.
They takeover from the outgoing executives chaired by Gene Gyamfi Nkrumah Adwabour a.k.a young chairman.
Mr. Jude Osei Owusu is the newly elected Chairman of the Houston chapter. The executives of the chapter include Dr. Josiah Halm as the Vice Chairman, Bernard Kwame Kujem as Secretary, and Daniel Mensah Opoku as Organizer.
The rest are Esme Akofa Kwami, women organizer; Priscilla Agboka, Treasurer; Nana Yaw Asikuma, Youth Organizer; and Fred Ekow-Wilberforce as the communications director.
Addressing the ceremony, the USA NPP chairperson, Madam Obaa Yaa Frimpong admonished the new executives to be battle ready for election 2020.
She noted that victory can only come through selflessness and hard work, putting country first, and knowing that there is an uphill task ahead which requires them to serve, but not to be served.
According to her, teamwork, dedication, commitment, patriotism and loyalty to members and the NPP party in general is the driving force of the party.
The outgoing Chairman, Gene Gyamfi Nkrumah Adwabour encouraged the new executives to show great leadership, commitment and honesty while in office.
He indicated that her reign did not only assist the NPP party financially, but helped to win the Mfantseman parliamentary seat.
According to him, they were very instrumental in hosting the then NPP Presidential candidate now President Nana Akufo Addo and Vice president Dr. Bawumia in year 2010.
He added that NPP Houston chapter is well grounded financial by their effort with a vibrant web presence.
Mr. Gyamfi concluded by charging the new executives to use the achievement of the past executives as a benchmark to help the NPP party retain power and also retain Mfantseman Parliamentary seats come 2020.
One of the Founding Fathers of Chapter, Mr. Jermaine Nkrumah gave a short history about the chapter and pledged to support the chapter in any means possible.
Other Patrons, Mr. Kwame Acheampong and Mr. Yaw Mensah, took to the podium to advice the current executive members to bury their differences and work hard for the party to retain power come election 2020.
The ceremony was attended by a large number of the Ghanaian community in Houston, Texas, and the surrounding areas including NPP sympathizers, former chapter executives, and Patrons of the Chapter.
The newly elected executives list:
Mr. Jude Osei Owusu – Chairman
Dr. Josiah Halm – Vice Chairman
Mr. Bernard Kwame Kujem – Secretary
Mrs. Priscilla Agboka – Treasurer
Mr. Fred Ekow-Wilberforce – Communications Director
Mr. Daniel Mensah Opoku – Chapter Organizer
Mrs. Esme Akofa Kwami – Women Organizer
Nana Yaw Asikumah – Youth Organizer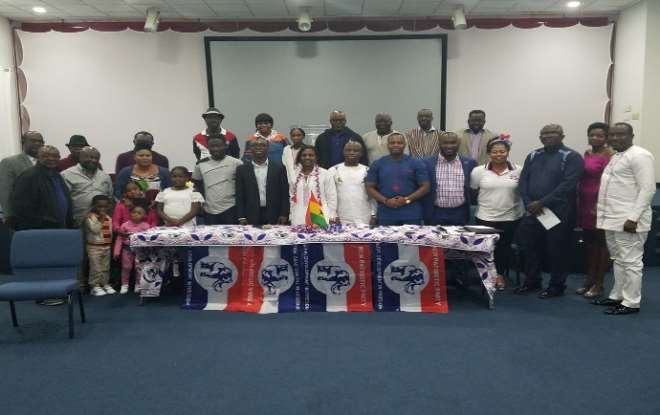 Npp Usa 2