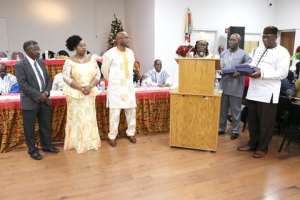 Saturday December 22 2018 will go down as an epoch making day in the annals of the Volta Association of Washington DC Metro Area Inc. when for the first time in its existence for thirty-five years, the association moved to have its annual get together in the city of Alexandria, Virginia. The event venue was the Franconian Moose lodge located at 7701 Beulah Street.
In her inaugural address, the president of the association Dr. Faustina Quist, thanked members for allowing her to run affairs of the association for another term. She also thanked a high powered delegation from Norvinyo association from Richmond led by their president Max Ntumy. The president also recognized the presence of Mr. Michael Deyegbe, president of the Ewe community in Vincenza, Italy, for gracing the occasion with his presence. The president of the Council of Ghanaian Associations (COGA) Henry Adu was present as well as some of his leadership team.
The president assured all, that the project to acquire a place we can call our own is still on course. This can be achieved if we all chip in our quota. The Volta Association resource center will surely come to pass.
The president noted that there were some achievements and challenges during the first term of her administration. She pointed out that 81 members joined the association in her first term. Presently the association has 421 members on its roll with 223 active members. The challenge here will be to make all the dormant members come back to life for all hands to be on deck. The association has shifted away from getting executive members doing all the work to committee system that has greatly reduced the burden placed on executives. The association now has the following committees; welfare, transportation, organizing, education, technical, constitutional, and building. These committees also serve as ways of building leadership capacity from the committee levels.
Touching on education, the president pointed out the importance it plays in the socio-economic life of a group. In that direction the "Florence Agbonyitor Educational Fund" was established to cater for the educational needs of our members in general and the youth in particular. The manifestation of our youth policy is the two young ladies (Mirabel Langham and Setor Afetsi) who expertly handled the night's event as MCs.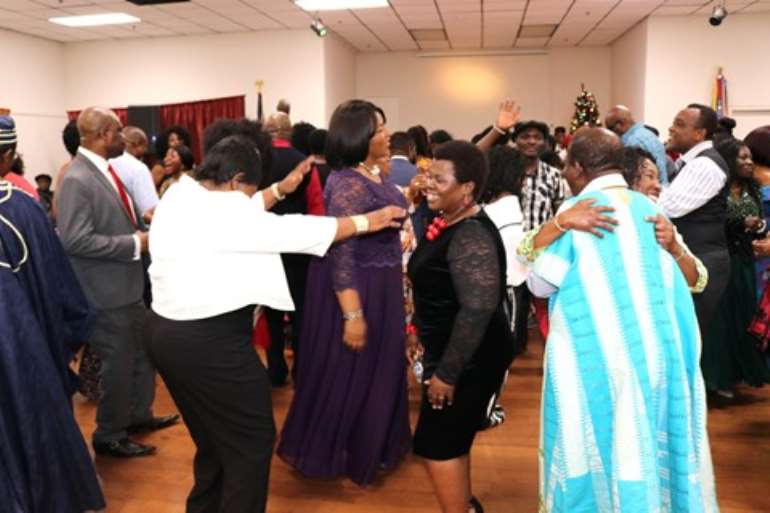 The president praised the organizing team for a well planned and executed event. Members of the committee, led by indefatigable Benjamin Koku Senyo, were given plaques.
Presidential awards were given to Mr. and Mrs. Isaac Vodi and Mr. and Mrs. William Ayenson for their contribution over the year to the Volta Association. Others such as Dr. Felix Korto and Mr. and Mrs. Vincent Kumordzi were recognized for their monetary contributions towards the resource center project.
Mr. Chris Nuworsoo who led the fundraising event called on members to give more so that we can do things for ourselves and our community.
Music for the evening was provided by DJ Slim.