Game Opens 2 Discount Megastores in Accra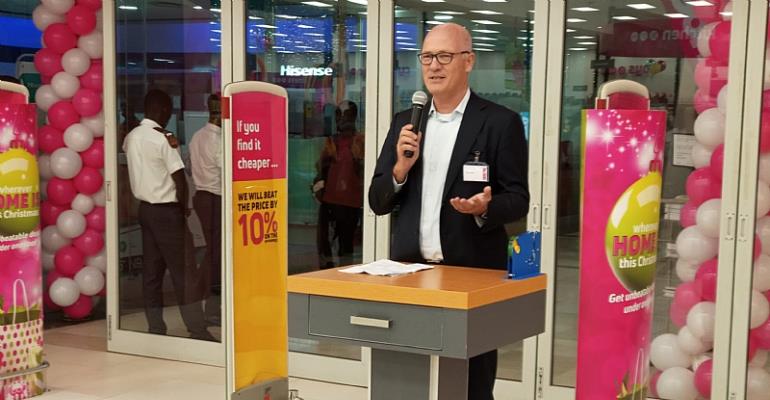 Two brand new Game discount megastores officially open their doors in Accra on Thursday 29 November - one at Achimota Retail Centre and another at West Hills Mall.
This brings to four the number of Game stores in Ghana – the first was launched in Accra Mall in 2007, while the second Game store opened in Kumasi last year.
Game Accra Mall has also undergone a major facelift to dovetail with the design of the two new stores.
The fresh new look incorporates elements such as lower fixtures to improve the line of site in the store and enhance a clutter-free shopping experience, as well as centralised till points for ease of access.
All three stores will have opening deals which will be valid for four days only – from 29 November to 2 December, while stocks last.
Loyal support from shoppers over the past decade has reinforced the South Africa-based Game group's decision to invest further in the Ghanaian economy.
The Chief Executive Officer (CEO) of Mass Discounters, Albert Voogd said the company has invested US$300million in Ghana over the last 10years.
He noted that the company has directly employed over 300 people who undergo periodic training to offer quality services to customers.
Mr. Voogd indicated that they are obsessed with the desire of creating a better life for customers with quality but cheaper and affordable products which are 80percent locally supplied.
Game's Africa Director, Richard Fuller expressed optimism about the group's growing Ghanaian presence.
"We are honoured by the ongoing support from Ghanaian consumers, which indicates that their retail needs are being met in terms of product offering, price, customer service and shopping experience," he stated.
He noted that the investment in Ghana entrenches Game's position as Africa's largest general merchandise retailer, and the stable economy of Ghana inspires confidence for their business to invest further in the country.
"Both the new Game stores had a "soft" opening prior to Black Friday so that we could provide customers with Black Friday specials, but the official launch is on Thursday for both stores," he stressed.
According to him, Game is a multi-department store offering many products ranging from major domestic appliances to sporting equipment, high-tech TVs, home furnishings, toys, cosmetics, fresh food, dry groceries, stationery and so much more.
Fuller outlines Game's single-minded commitment to customer satisfaction, which is applied through a rock solid trio of far reaching guarantees on price, satisfaction and service.
He added that the price guarantee reaffirms that Game will beat the price of any other retailer who has the same stock as sold in Game stores.
He indicated that the satisfaction guarantee promises to refund the purchase price of goods, or exchange any goods at any time – if returned in the original condition and packaging.
Mr. Fuller posited that the service guarantee promises customers that Game will provide on-going service on any product purchased – even after the expiry of the warranty.
"On 29 November with all three Game stores in Accra - there will be good value opening deals, and shoppers stand a chance to win giveaways and vouchers. Store opening specials are limited. 9am is when the doors of all three stores will open. Shoppers are encouraged to get to the store early to take advantage of the opening specials," he noted.
Game West Hills will be the 25th Game store outside of South Africa's borders, while Game Achimota will be 26th.
The two new locations will make the Game more accessible to the greater Accra residents, and shoppers who travel from further afield to take advantage of the discount prices.