Doctor  Korankye Launches 'Adinkra Alphabet In Ghana'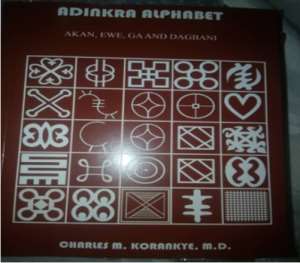 Medical Doctor,Dr Charles Korankye has launched his maiden book which covers her many years of painful experiences written to inspire and encourage others.
Title, 'Adinkra Alphabet in Ghana', the book echoes the history of Adinkra symbols and their literal, physical, metaphysical meanings created to replace the alphabets used in writing the Akan languages.
Speaking at the launch held at GNAT Hall, Accra, on Tuesday,Dr Korankye said' The aim of Adinkra Alphabet is to be able to write Ghanaian languages with native Adinkra Alphabet. This will give us a sense of identity and a writing system that originates from our native culture. Adinkra Alphabet is derived from Adinkra symbols'.
According to Dr korankye 'Growing up in Ghana I remember seeing Adinkra symbols all around me and I became so fascinated with them. Later on, I researched into the symbols, and discovered that they were not mere symbols. As I studied them closely, I could decipher some hidden meanings behind them.
One day, my wife and I were discussing why no country in Sub-Saharan Africa could invent any form of writing. The night of that day, as I lay in bed, it struck me that the Adinkra symbols could be used to create alphabets for writing. The birth of the book took place that very night'.
Adinkra Alphabet maintains the symbolic meaning of the Adinkra symbols from which they were derived. Each Adinkra Alphabet also has a unique numerical value. This allows each Adinkra Alphabet to have additional dimension of use and a broad area of application.
Even though we are used to the English alphabets, I think it will be a great idea to start writing using our own unique characters which will make sense to us as Ghanaians.
The introduction of the Adinkra system of writing should be seen as a long –term project and should be started from the nursery level in schools.
For Dr Koranky 'Getting Adinkra Alphabet into the Ghana Educational system requires the collective effort of all of us and that is why I ask for your support in making this a reality'.
Present at the launched was Okogyeatuo Nana Kwaw Kuturuku V,Frankaahene of Akuapem Traditional area who also the chairperson at the launch.