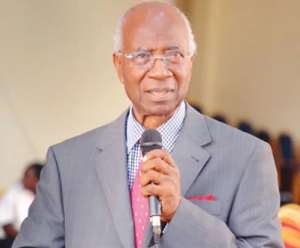 Professor Ladipo Akinkugbe
Professor Ladipo Akinkugbe, Philosopher,Statesman and Physician, in his Autobiograpy titled, FOOTPRINTS AND FOOTNOTES revealed he visited the then President Olusegun Obasanjo, forty times in the Presidential Villa Abuja .
Akinkugbe reveals in Footnote and Foot prints, that he had known Obasanjo long before he became military Head of State.Whatsmore he had also met with , to become Head of State, Yakubu Gowon whilst he was training to be a Military Officer at Sandhurst,United Kingdom.Not just that, independently he had met the Nurse , Victoria Zakari, at the University College Hospital, Ibadan where he worked, Long before she became, Mrs Gowon, First Lady.Bearing in mind all these contacts one is bound to ask"What happened to Nigerias Development"?
Ladipo Akinkugbe is an old Boy of Government College Ibadan which by the Wikipedia has produced 80% of the Presidents of the Nigerian Society of Engineers . So when we lament the state of critical infrastructure we may invariably be talking about the old boys of Government College Ibadan. A lot of Problems in Nigeria can be resolved at the level of the old Boys association and I dare say The Old Girls. Take Barewa College, Zaria it has produced 20 Governors and Five President/Heads of State. Personal relations can be important. British Prime Minister, Sir Winston Churchills personal relationship with U.S President Franklin Roosevelt,for instance. saved Britain a great deal during the Second World.
For reason of Albert Einsteins personal relationship with Roosevelt , scientists arranged that Einstein sign a letter to Roosevelt on the new science of Atomic Physics which eventually resulted in the Manhattan project involving 100,000 Engineers and scientists. Atoms for Peace.
From Government college Ibadan was my Professor, Muyiwa Awe now late who served as the first secretary general of the African Union of Physics with obsolete equipment way back at the Department of physics, university of Ibadan,where he was based for about 35 years before retiring.Physics is said to have made the United States what it is today.-a superpower the worlds largest economy so what happened to Nigeria? What do "Govtee Guys" find doing when they meet? Once I saw them on Television Dancing on the Bisi Olatilo Show.Perhaps thats not part of what they should be doing.
Furthermore, Akinkugbes Cousin, Professor Ifedayo Oladapo .now late. served as President of the Nigerian Academy of Science ,another cousin, Dr Dayo Akinrele served as Director general of the Federal Institute of Industrial Research OShodi,Lagos, and lastly Akinkugbe Elder Brother, Chief Ibukun Akinkugbe was President of the Pharmaceutical Society of Nigeria and is also a big player in business and Industry but we know the manufacturers have always had it bad from year to year its always Lamentation.
Ladipo Akinkugbe was vice Chancellor of two universities and he was also Pro Chancellor on two occasions.He has been a serial Chairman of important committees on Health and Higher Education.He also served as chairman of the Joint admissions matriculation board- admitting students into universities and now polytechnics with very limited and archaic curriculum
In Footnotes and footprints. Akinkugbe reveals that as Pioneer Vice chancellor of the University of Ilorin he commissioned a Fine Artist to design the academic Robes for the Principal officers of the university but sadly the academic Robes were manufactured in the united Kingdom; this could be described as an example of "Fashion Tourism" and I know Akinkugbe would be against Medical Tourism.Our Professors love to be Fashionable but they never thought of staring a school of Fashion in any of our Universities. Fashion is a multi billion Dollar industry.
Now, when Professor Akinkugbe found himself in a Hotel in India he was quite impressed to find that"practically all the items in the room were made in India-crockery,cutlery,linen, rugs,furniture,sanitary ware and Telephones" He was even more surprised or frightened to know that the Airoplane he was flying in was not only assembled in India but was manufactured in India.
Akinkugbe who had helped to set up three universities did not tell us that after this Indian revelation he was piqued and so sent a memo to the powers that be.The Indians manufacture Medical Equipment Nigeria does not manufacture medical equipment used in our hospitals much of which Akinkugne has presided over its acquisition and now in a terrible state of disrepair . Biomedical Engineers are into the design,development,manufacture, operation, maintainance, repair and decommissioning of medical equipment .Not until recently did the authorities see the need for a Biomedical Engineering program in a Nigerian universities precisely university of Lagos and University of Ilorin in 2010. I know that a lot of the Hospital Beds in Nigeria are imported..Can I hear somebody exclaiming" MR.Togonu-Bickersteh,can you be serious, simple tooth pick Nigerians have been importing how would they produce a thing as gigantic and complex as a Hospital Bed?"