Labelling And Packaging Certification Improves In Ghana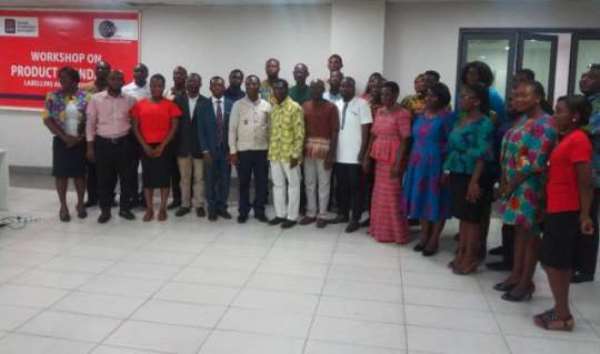 Mr. Kwasi Owusu Boadu, Director in Charge of Inspectorate Directory at the Ghana Standards Authority (GSA), on Tuesday said labelling and packaging certification among manufacturers and businesses in the country has improved.
He said currently, 'we have been meeting a number of export requirement from the international community, where most of our goods and products are accepted'.
Mr Boadu was speaking at a Joint workshop on Standards and Labelling requirement organised by the GSA in collaboration with the GS1 Ghana in Accra.
The workshop was to give an in-depth education on standardization, certification and labelling to help stakeholders in the standards and packaging industries improve compliance and boost their businesses.
He said Standards were very important in the life of any successful business, since they increase efficiency and cut costs making it easier for manufacturers to do effective business.
He said standardisation was also critical for imports and exports, hence manufacturers must take a keen interest in ensuring that their products meet the required standards.
Mr Boadu said when a product was manufactured, the manufacturer wants to communicate the value of the product to the customers and it was the labelling on the product that they use.
He said businesses were now seeing the importance to labelling and packaging, adding that these helps in the promotion of trade and also grows the economy.
He said: 'As a producer, your willingness to accept and act on your responsibility and obligation to have your products undergo product certification equates to your regard for the integrity and value of your company'.
He called on consumers to be vigilant when purchasing goods and products for their consumption, adding that product certification allows consumers to purchase quality goods for the right price.
Mr. Kofi Essuman the Chief Executive Officer (CEO) of GS1 Ghana said countries thrive on trade and the only way to penetrate the international market was to conform to standards to enable businesses to compete favourably.
He said manufacturers and businesses needed to look at their packaging strategies that would draw consumers to their products.
He called on consumers to raise alarm, anytime they come across any sub-standard products on the market.
He said package of goods needs labelling and that the language on the package should be in a language that could be read and understood by the consumers easily.
'Labelling is critical for the consumer to know what is being sold to them and what they are buying,' he added.
He urged businesses to adapt to the technological change to be relevant in the market to help them facilitate trade.