Ghana's growing gun culture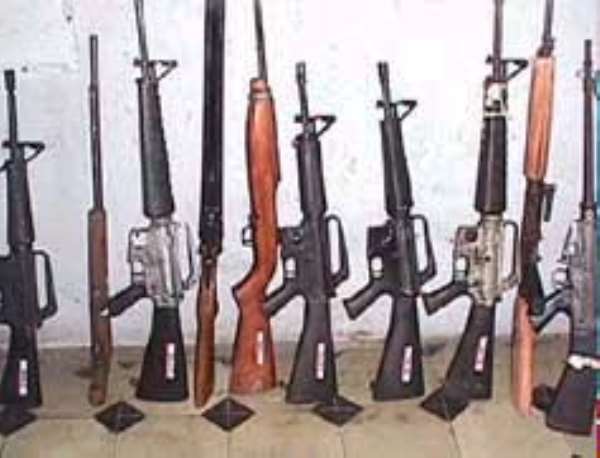 Guns have for ages been a traditional tool within the Ghanaian society.
It was a symbol of great pride that formed an integral part of Ghanaian festivals used to add colour to these celebrations.
Hunters also used it to get bush meat for the dinning table.
But recently guns seem to have taken on a different function in the Ghanaian society.
Many have complained about what is seen to be a growing gun culture among Ghanaians where guns are frequently used for criminal purposes.
Joy News reporter Evans Mensah takes a look at this growing trend.
The gun culture for which the Western world, especially the United States is very well known, seems to be gradually creeping into the Ghanaian society.
If you want a typical shooting scene with an indiscriminate use of Gun power your best bet will be to watch an American movie.
Recently though members of the Ghanaian public do not have to watch CNN or watch Hollywood-style movies to see and hear of Gun related violence.
Ghanaian newspapers, TV news bulletins and radio programmes recently often report cases of gun violence within the Ghanaian society.
There are fresh examples: In January at Dome pillar two in Accra, four people were gunned down by unidentified gunmen with unclear reasons; in February two people were killed when a soldier belonging to the Presidential detail allegedly shot and killed his girlfriend and wounded her lady friend after which he shot himself at the castle junction.
In September this year, a security officer with a private security company on an apparent revenge mission shot and critically wounded her former girlfriend and her pal at Osu.
Statistics from the Ghana Commission on Small Arms indicate that there are about 100,000 small arms circulating in the system.
What is gradually becoming the Ghanaian new found appetite for guns has created a market for huge local production of the product for those who relish its power.
It is estimated that more than 2,500 blacksmith now possess the capacity to produce guns in the Ashanti and Brong Ahafo Regions alone.
With such alarming statistics, one is not surprised about the numerous reports in the media concerning cases of gun violence and a possible entrenchment of gun culture in Ghana.