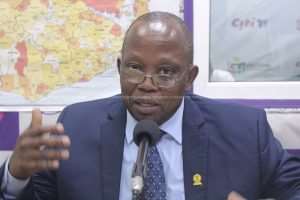 There is absolutely nothing wrong with investigating the Department of the Auditor-General for any lapses or breaches, real or perceived, in the area of procurement protocol in our civil and public service. After all, even as maverick New Patriotic Party (NPP) parliamentarian Kennedy Ohene Agyapong observed in the wake of the most recent Anas Aremeyaw Anas media exposé on the ousted President of the Ghana Football Association (GFA), Mr. Kwasi Nyantakyi, sooner than later, the watchman would also have to be watched. Mr. Daniel Yaw Domelevo, an eleventh-hour Mahama-appointed Auditor-General has, so far, performed creditably, at least by all public accounts; so it was only a matter of time before his seemingly free-ranging and unfettered and impartial unearthing and public exposure of fraud, fiscal mismanagement and plain embezzlement of the public dole was brought in check, at least a vigorous attempt to doing so, was initiated by powerful elements in government who may be feeling the blue flames of the Bunsen Burner to moving dangerously too close to their butts for comfort (See "PPA Probes Auditor-General Over GHȻ 7.6 Million Cars" Daily Guide / Modernghana.com 9/7/18).
In the article referenced above, two discrepant figures are reportedly given by some anonymous sources allegedly close to the Office of the Public Procurement Authority, namely, GHȻ 7.6 Million and GHȻ 6.8 Million. So, until the jury sits down and hears the details of the auto-purchase transaction between the Auditor-General's Office and Japan Motors Ghana Limited, the renowned auto dealer, if memory serves me accurately, we would not know which figure to believe. At any rate, I am quite certain that Mr. Domelevo, who shares the same day-name as my late maternal grandfather, the Rev. T. H. Sintim, is savvy enough not to have overstepped his bounds, knowing fully well that these are treacherous times for anybody to be living in and working in Ghana, although in terms of the jealous protection of human rights, there could never have been a better time since the country attained its independence from Britain some 61 years ago.
Well, I mention the question of Mr. Domelevo's not overstepping his bounds because I am pretty certain that the Auditor-General's Department has its own specifically and specially designated Procurement Officer (PO) who was appointed on merit. If the right people in charge of the various subdivisions of the Department were allowed to professionally conduct the business of the people with the requisite dosage of independence and conscientiousness, one sees absolutely no reason why Mr. Domelevo needs to have any cause to panic or feel the jitterbug. By my own light, and I readily own that I am no expert in the fields of public procurement, accounting and auditing, what is presently being made to seem like a major scandal may actually turn out to be a proverbial storm in a teacup. It may even end up being a paradoxical morale booster. As the Nietzschean cliché goes: "The disease that does not kill us may just end up affording us a new lease on life." This is not an exact quote, of course, but it vividly captures the semiotic essence of the same.
But what most especially irks me and seems to have recently assumed the status of an obsession – no pun intended – is this erratic tendency among a remarkable number of Ghanaians to move serially and quickly from one suspected or widely alleged case of fraud or forensically credible exposé to another, without wisely and meticulously haunching down and pondering matters long enough to be able to either find a solution or definitively deter the possible recurrence of the same, with a well measured dose of disciplinary sanction. I am here, of course, obliquely referring to the key operatives of the Akufo-Addo-led Administration of the New Patriotic Party. For example, the government began this year with shocking, but not altogether surprising, revelation that nearly every one of the National Democratic Congress' Members of Parliament who also doubled as cabinet appointees in the Mahama government had drawn home for nearly the entire four-and-half years that that government ruled, double salaries or paychecks that none of these former Ministers and Deputy Ministers were legally not entitled to.
You would naturally, or logically, expect that such high crimes and misdemeanors would promptly constitute the first disciplinary order of the present Administration. Alas, what we clearly see now is this apparently morbid preoccupation with subjecting the executive appointees of President Addo Dankwa Akufo-Addo's own Administration to the most stringent scrutiny, while almost totally seeming to have curiously forgotten the fact that the government is adequately staffed to be able to administer the judicial litmus test of subjecting the professional integrity of both presently serving cabinet appointees and previous ones, especially the erstwhile Mahama appointees, who have been objectively established to have left tell-tale signs of fraudulent conduct in their wake, the overwhelming bulk of which has been proven to be forensically sustainable, if the current government has the moxie or courage to so decide, to arraign these veritable criminal suspects before a legitimately constituted court of law.
In other words, in a bid to demonstrating that it is the most transparent and fiscally responsible Fourth-Republican Administration or government, the leaders of the ruling Akufo-Addo-led New Patriotic Party appear to be hell-bent on suffocating themselves, beforehand, by having apparently decided, less than half-way through its very first term in office, to effectively cede the sacred and inescapable power to punish or discipline the most criminal elements among Ghanaian politicians to the most-guilty politicians themselves. It is almost depressingly as if the NDC Abongo Boys and Girls have just successfully performed a jujitsu maneuver on their hitherto triumphant political opponents. This anomalous approach to governance needs to promptly and radically change. To be certain, this scandalous exhibition of abject weakness may be the motivation behind the decision by the most grossly incompetent, corrupt and criminal postcolonial Ghanaian leader to shamelessly return to what Mr. Mahama best knows how to do.
*Visit my blog at: kwameokoampaahoofe.wordpress.com Ghanaffairs
By Kwame Okoampa-Ahoofe, Jr., Ph.D. English Department, SUNY-Nassau Garden City, New York September 7, 2018 E-mail: [email protected]