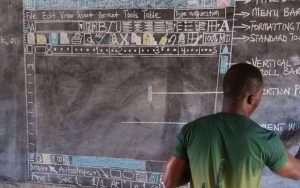 The Teachers Licensing examination is finally set to be rolled out with applicants expected to pay a registration fee of GHc220.
The introduction of the licensing examination was met with a lot of agitations by some teacher associations.
It is to be conducted by the National Teaching Council (NTC), and would take place from Monday, September 10 to Wednesday, September 12, 2018, in all Colleges of Education across the country
The examinations applies to all teachers who hold the Diploma in Basic Education (DBE), Bachelor of Education (B.Ed) or a post-graduate Diploma in Education (PGDE) who want to be employed by the Ghana education service.
According to the National Teaching Council, the purpose of the licensing examination is to enable qualified teachers to acquire a professional license to ply their trade.
The NTC says the examinations will still go ahead despite calls for its abolishment because it is mandated by the laws of the country to conduct such examinations.
The licensing examination is also aimed at improving the professional standing and status of teachers and to register teachers in Ghana.
About Teacher licensing examinations
In 2017, the Ghana Education Service (GES) revealed that all trained teachers nationwide were expected to write professional licensing examinations to be conducted by the Service.
The initiative according to the GES was prescribed by law and part of the education sector's professional development.
The licensing examination applies to both trainee teachers graduating from public and private teacher training colleges.
The NTC explained that it is mandated by the Education Act 2008 (Act 778), Section 9 to conduct the exams.
It was however met with fierce resistance as two teaching bodies; National Association of Graduate Teachers (NAGRAT) and GNAT kicked against the decision primarily because they claim Government did not consult them prior to introducing the examinations.
According to NAGRAT the new policy which includes giving new job titles to teachers, and applying for license among others have not been well thought through.