We Are Not Ignorant Of Your Diabolic Schemes—Small Scale Miners Warn Solomon Owusu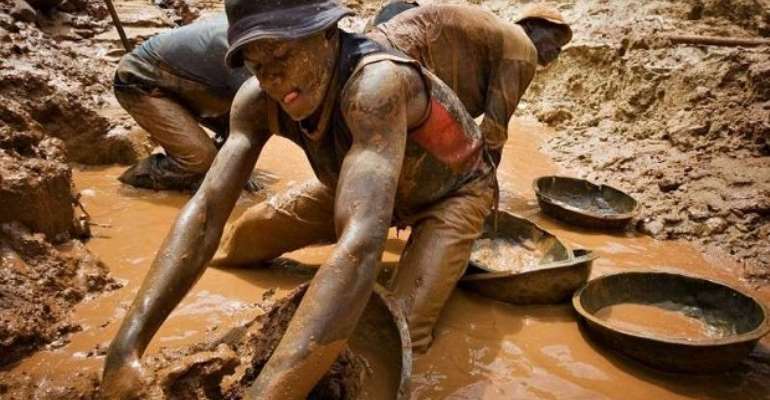 Responsible small-scale miners Association of Ghana has warned Citizen Vigilante Mr. Solomon Owusu to desist from recent disparaging comments directed towards the inter-ministerial committee on illegal mining.
According to the group, Solomon Owusu who is an engineering student based in the U.S has been granting interviews on various platforms, calling for the dissolution of the inter-ministerial committee on illegal mining for no apparent reason.
The group also described his call as baseless and needless, having failed to recognize the committee's appreciable job towards government decision to lift the ban on small-scale mining.
''We have taken note of Solomon Owusu's statements and utterances for over a month now and welcome suggestions from all Ghanaians to help us go back to work in a more sustainable manner.
However, we will not sit unconcerned as he is gradually drifting from the initial statements to personally attack Prof. Frimpong Boateng and other members of the committee'' a statement read.
The group challenged him to provide names and contact information of the supposed 30 member team of experts he proposed to minister for Lands and Natural Resources John Peter Amewu at a meeting to help solve the problem of mining activities in the country as earlier stated in one of his radio interviews.
''We are aware that he is in bed with some galamsayer's who are members of a youth wing of an opposition party and has created a platform known as "Justice for small-scale mining".
''The committee is not starved of technocrats as we have the minister of lands and his technical team supporting the committee''.
They continued ''Is Solomon trying to tell us that he's academically resourced than the professors who taught him at Umat before his departure to the USA including Prof. Kumah, Prof Amankwaah, the late Prof Arojah Eshun and Dr. Bernard Kumi Boateng who are all helping the inter-ministerial committee on illegal mining not forgetting the technocrats at the minerals commission, water resources commission, CSIR, EPA and the other relevant institutions''.
''Most of the river bodies in Ghana are improving so it baffles us as to why he is disputing Professor Frimpong Boateng's statement that the river bodies are getting clearer''
The group, however, cautioned Mr. Solomon Owusu to stop drawing them back and derail the numerous achievements of the committee since they are tired of being in the house for over 17 months leading to untold hardships.
Achievements of the committee
Formation of district mining committees b). Galamstop software and Tablets c). Acquisition of drones d). Training of miners at University of Mines)
Provision of 26 pickup vehicles and other logistics to the minerals commission f). Town hall meetings and Stakeholders consensus across the country g). Formation of operation vanguard h). The effective multi-sectoral approach I)
Regular interactions with GNASSM, UNIDO and other agencies j). Tasking of DVLA to register all excavators and earth moving equipment.
The question is "is it prudent and wise to dissolve such a committee for selfish ambitions? They quizzed.
In conclusion, the group said ''Nobody prevents you from offering a hand but why didn't Minister Amewu who brought you into the country, introduce you to the other members of the committee but rather decided to finance your activities unilaterally? (ii)--- What prevents Mr. Amewu from adding you to the existing technical team at the ministry where Dr. Isaac Karikari and others are members of his inner circle?
(iii) You have by this statement questioned the intelligence of the president who in his wisdom, constituted the committee and asked the eminent Professor to chair it.
''Your first interview on the radio was a total deception of what you really meant to achieve. We can't be in the house any longer. So please shut up and open your mouth only when you have something positive to contribute.''