Nicaragua: Pro-Ortega Forces Take Opposition Stronghold Monimbo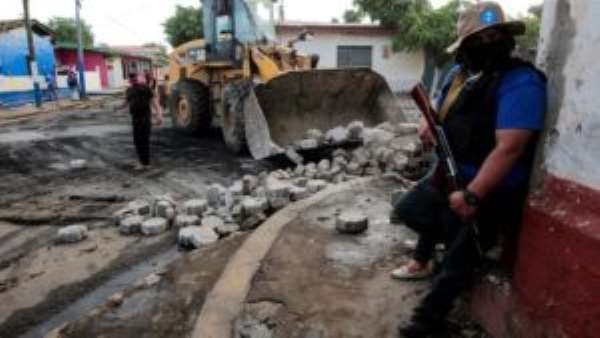 Pro-government gunmen and police took control of an opposition stronghold in Nicaragua after a deadly confrontation with demonstrators demanding the resignation of President Daniel Ortega.
Police and paramilitaries attacked Monimbo neighbourhood in the city of Masaya on Tuesday amid international condemnation of the violent repression of protests in the Central American country.
At least two people were killed, according to Vilma Nunez, head of the Nicaraguan Centre for Human Rights. Dozens were reportedly wounded.
More than 280 people, the vast majority of them civilians, have been killed in political unrest since protesters took to the streets in mid-April over now-scrapped pension reforms.
Ortega's forces seized Monimbo after several hours of fighting and "excessive use of force", secretary of the Nicaraguan Association for Human Rights Alvaro Leiva told AFP news agency.
"They are shooting at houses in an irresponsible way. The message is that anyone who pops their head out will be killed. It's a message of terror," said Alvaro.
Managua's outspoken auxiliary bishop Silvio Jose Baez tweeted: "They're attacking Monimbo! … Daniel Ortega halt the massacre! To the people of Monimbo I beg you, save your lives!"
Demonstrators reportedly fired homemade mortars from behind barricades but were outgunned by the automatic weapons used by pro-government forces.
A group of journalists who attempted to enter Monimbo were reportedly shot at by the pro-government gunmen to prevent them from entering the neighbourhood.
Source: Aljazeera.com