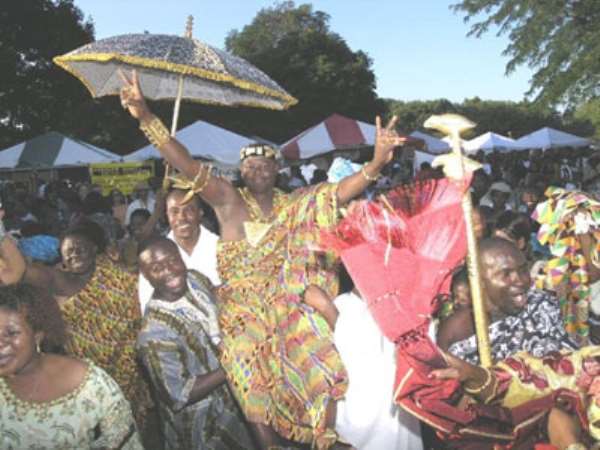 . . . Chicago Chiefs will be there! . . .
It was started by Chicago 17 years ago and it became the largest African cultural expositions in the diaspora, it caught fire in New York and it became the mother of all picnics and on the 1st of October 2005, it will rock at 2650 Sistrunk Boulevard, the historic African American Research Library, Fort Lauderdale, in the sunshine state.
Yes, it's the first ever annual Ghanafest 2005 in Florida, presented by the indomitable Ghanaian Association of South Florida (G.A.S.F).
The Ghanaian Association of South Florida (G.A.S.F) is a non-profit organization based in the Tri-county area whose objectives include, social, cultural, charitable, humanitarian and educational activities aimed at promoting the general welfare and unity among Ghanaians, Americans of Ghanaian descent, African-American, Caribbean and other Americans with interest in Ghanaian heritage.
Ghanafest 2005 Florida will be an Informative and rich cultural event, featuring Ghanaian culture, clothing and traditional music, culminating in a concert with various Ghanaian dances. The evening will be boogey night!
The theme for this year's festival is "Ghana – Closer Than Ever."
The festival will be a three-part all day and night event, with Seminars and exhibits in the morning, as well as a traditional Ghanaian baby-naming ceremony ,this is a must-see program! The finale will be a grand concert featuring Ghanaian performers, drummers, singers and dancers. A royal procession of chiefs and queens in their royal regalia will climax the day activities. After-party will be held at the Plantation hotel and conference center, Boogie night's club, 1711 N University drive. The day activities start at 10AM and ends at 5 pm.
Chicago area chiefs and queens will be in attendance to grace the occasion and take part in the procession of chiefs and queens. The Ghana National Council of Metropolitan Chicago will be led by its president, Mr. Reuben Hadzide, will be attend the festival!
The first part of the program (10am to 1pm) is free to the public. The second part (concert from 2:30pm to 5:00pm) is $20/seat. There will be a "Ghanakids village" which will host a special program for children between the hours of 2pm and 5pm.
Ghanaians, Africans and people from all walks of life in Florida and its neighboring states are warmly invited to bring their families to reminisce and teach their children about the rich Ghanaian culture brought to you by the Ghanaian association of South Florida.
Proceeds of the event will go towards the friends of the Broward County libraries and malaria prevention in Ghana.
For further information please call us at (954) 261-5341.
You cannot miss out on this!