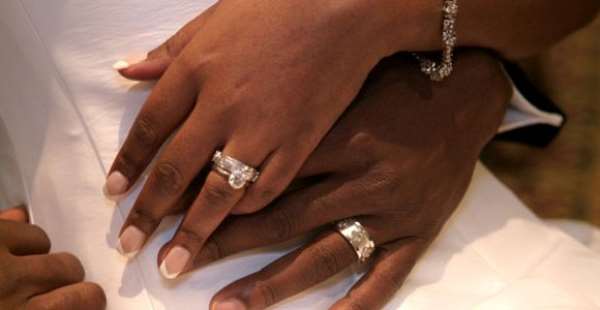 She never stopped crying. Her wedding has been snatched from her hands. She graduated from the University of Ghana not too long ago. She had met Grey when she went for her industrial attachment. She was in level 300 by then. Grey is a good looking young graduate from the University of Ghana. Grey, the young and promising man had promised to wed Angela after her national service. They both had fun for the while they have known themselves. You look sweet and I won't hesitate to marry you no matter the miles it may involve, Grey softly told Angela. I love you more and don't know what else to say but I really want to be in your alms always. I want to feel your peculiar warmth all the time. I will marry you if you say so, Angela told Grey looking into his eyes without noticing that they were even in a public transport. This is how Grey is going to pay Angela's father who also happens to be his father. He opted for my abortion. He is going to snatch the wedding from everyone's hands. Let's follow the story to know what happens.
Aunt Sabina is the mother of Grey. She met Mr. Mcmila who had interest in her and later went into bed with her. She noticed she was pregnant for Mr. Mcmila but he wouldn't accept because he was married and can't have a second wife. He had given Miss Sabina 1 million Ghana cedis to abort the child and then use the rest to support her business. Aunt Sabina never aborted the child. When the child was twenty one years old, she showed him a picture of Mr. Mcmila. He was then in level 200. The mother told him everything that happened. Grey got furious and wanted to pay back what the father did to his mother and the intention to abort him. Grey was fortunate to meet this man once in ECOBANK while paying his fees. They both crashed. As he apologized for his in actions, the man brought out his hand ready to shake Grey. I'm Mcmila, a director of Mcmila Family Company Ltd. Here is my card, give me a call whenever you're free. One may be wondering whether Mr. Mcmila is aware that the boy is his son. No! He is not. He just liked the boy for he was polite and respectful. What could this be, a coincidence? Hmmmm, the boy sighed and left the bank. He informed his mum about the incidence. Mum, you can't imagine I met Mr. Mcmila today. He gave me his card and demanded I call him whenever I'm free. You better go inside and park your things and get ready for school. I will be dropping you in school today, mummy said.
Grey called Mr. Mcmila and both met to have a chart. Grey haven't introduced himself to him yet. He wants to know this man the more. Both have become friends for a while. But Grey wants to surely punish this wicked man who seems to be his father. Two years over, Grey had graduated from the university and he is fully employed in Nyameke and Friends Oil Industry Ltd. He has grown into a good and handsome man. As popularly called by his friends, mummy's son. Mummy's son is energetic and very skillful. He is in the refinery department in the company. We have a student who has requested to have practical studies with our company, his manager told him. She is going to be under your supervision and care. She will report to work on Monday. Her name is Angela.
Angela reported to work and had a successful attachment. She believes she is up to task for any industrial job after graduation having gone through this attachment, but her problem was how to introduce Grey to his father. She loves Grey and wouldn't want to lose him. After she graduated and had finished her national service, what was next for her was getting married and Grey was the lucky person. At last, she broke the silence. Daddy, I have seen the man I want to marry and would like to introduce him to you tomorrow if you don't mind. You're welcome by daughter. Let me see this person first thing tomorrow morning. Daddy already is cheering her daughter up. Meet my dad, Grey. Dad, this is the guy I spoke to you about. Daddy at once stands up, embraces the boy. Do you both know each other? I can't believe it. Dad, how did you get know him? Grey can you please tell me something? I want to know. Angela was just amazed that both knew each other. I bless your marriage, said Mr. Mcmila. Oh! Here comes sister Abigail, my mum. Mummy, this is Grey, the guy I spoke to you about. Wooooooow! It's you! Good to know. Mummy, you too know him? Yes. Your dad said a lot about him to me. How both crashed at the bank. Let me get the table set. We must have lunch together today.
This is the first time I'm sitting with daddy at table but none is aware that I am a family member: these were thoughts that was going on in his mind. Meanwhile all the discussions at table had been about the wedding and the type of wears to use and where to have it. The debate about where to have the wedding ended. They have agreed to have it in La Royal Beach Hotel. The budget for the wedding is out. All the expenses are going to cost 1 million Ghana cedis and Mr. Mcmia has paid. Wow! So I had a father who could have paid such an amount for another man just to wed his daughter but wasn't ready for me to be born. We shall see. They have all agreed to have the wedding on the 26th of December. Grey hasn't forgotten about his plans of paying this man back. In the same way he loves Angela but can't go on with her. But the wedding was the chance for him to pay his father back. The wedding day is close at hand. Twelve best men for Grey and twelve maidens for Angela are ready. It's 26th December and all have gathered at the hotel for the wedding. Three hours into the ceremony, there was a sound of a gunshot. All fled for their life. The bride and the groom also escaped. The groom brought the bride into an uncompleted building and asked that they stayed there till everything was okay. She agreed. Grey now excused himself to make a phone call. Who could he be talking to on the phone? It's Mr. Mcmila. He is demanding that the man wills his entire company to him and if he does that he will set the bride and the groom free otherwise, he was going to have them killed. Who are you? And what's your name? Where can I meet you? Please ask for something else for this is too much for me to do. There is no other option old man. Just do exactly that and you will get your daughter and your son in-law back. Call me when you're done.
Grey returns to Angela weeping. Angela tries to wipe her husband's tears with sweet and encouraging words in her own discomfort. I know daddy will get everything under control. He will come and take us home soon. Mr. Mcmila has willed the entire company to Graham Mcmila. On the eve after doing what the kidnaper had said, he allowed Grey and Angela to go home. The father was happy that at least he has his daughter's life spared. Two days later, Grey Asante, as he introduced himself to Angela and the family but who's actual name is Graham Mcmila requested for a divorce. No matter what the girl's father could say to convince Grey not to do such a thing, he wouldn't listen. All he wanted was a divorce. They finally divorced. Angela is totally broken. Grey had parked his belongings and left to his maternal home.
Hello! Mr. Mcmila. It's me Grey. I would want to see you over an issue. Why not, you're welcome always. Here comes Grey with his mother to Mr. Mcmila's house. Mr Mcmila notice Miss Sabina from that distance. He was imagining what that woman was looking for in his house. It has been a long time since they both saw each other. Good day. They greeted. The entire family have met I suppose. Let's not waste time. I'm Sabina and here is my son Graham Mcmila. This is the child you wanted me to abort. He is your son. Besides, he told me his plans to deal to with you. He is the guy you willed your entire company to. I told him to use Asante as his surname when he spoke to me later about this daughter of yours wanting to marry him. My son loved her but I gave him counsel. He can't marry his own blood sister, I told him. He is sorry for any emotional curse that have befallen your daughter. Angela runs into her room, locks herself up and no one can stop her from crying over her wedding that turned into a live lasting memory full of miseries.
Hey you men out there! Let us be careful with what we do with our age. If you're married, love your wife alone and no other person. And if you have done what Mr. Mcmila has done, you should be remorseful and begin looking for your child. Do not support abortion. LET'S SAY NO TO ABORTION TODAY AND SAVE LIFE TODAY.