Russia Pledges Support To Africa Development
Russian President Vladimir Putin has sent greetings to African Heads of State and Government on Africa Day, celebrated on May 25, and further pledged Russia's preparedness to continue contributing to the sustainable development of Africa.
The message reads in part: "Please accept my warm greetings on Africa Day, a remarkable holiday symbolising aspirations of the people on the African continent for freedom, peace and unity."
Over the decades of independent development, African countries have achieved significant success in social and economic issues.
The African Union as well as other regional and sub-regional associations promote mutually beneficial integration, and improve coordination in resolving local conflicts and crises.
"Russia has noted with satisfaction the growing role of the African states in international affairs. We support their efforts to build a just democratic world order, act against terrorism, extremism, trans-border crime, other threats and challenges to regional and global security," he stressed in the message.
In conclusion, Putin frankly said "I would like to confirm Russia's readiness to further expand the traditionally friendly ties with our African partners, both bilaterally and multilaterally in various formats. We are also ready to continue to take an active part in programmes assisting Africa organised by the UN, G20 and BRICS."
The Africa Day, this year, coincided with the St. Petersburg International Economic Forum (SPIEF) and resultantly there were two special celebrations marking the occasions related to the continent: Africa Day and the 55th anniversary of the African Union.
The special session on business and investment opportunities included the Russia – Africa Business Dialogue that has generated increasing interests among Russian and African businesses, international companies, African governments and institutions.
This year's forum attracted African participants among them President of the Central African Republic Faustin Archange Touadera, Minister of Foreign Affairs and Cooperation of Mozambique Jose Pacheco, Minister of State for Foreign Affairs Henry Oryem Okello, Permanent Secretary at the Ministry of Trade and Investment, Professor Adolf Mkenda, Advisor to the President of the Republic of Togo Francoise Jolie and other high ranking officials, diplomats and business leaders.
President Putin and CAR leader Faustin Touadera held discussion focused on boosting economic cooperation between the two countries.
President Touadera expressed gratitude to the Russian leader and the Government of the Russian Federation for the invitation for the working visit and to take part in the St Petersburg Economic Forum.
"I am very happy to be here at your invitation. I think this is a wonderful opportunity to enhance our cooperation in many areas. I believe we can map out ways, areas and means for more active cooperation," he told Putin at the meeting.
"Today our country is among the least developed but we have huge potential. I think participation in the economic forum will allow us to tell its participants about this potential and the business and economic opportunities in our country," CAR leader added.
Like any other participant from Africa at the forum, President Touadera expected to strike a large-scale business partnership, invaluable support for potential economic and investment opportunities in his country.
The St. Petersburg International Economic Forum is one of the annual international platforms that brings together political, industry and business leaders to discuss the most pressing issues affecting global economics, development and finance.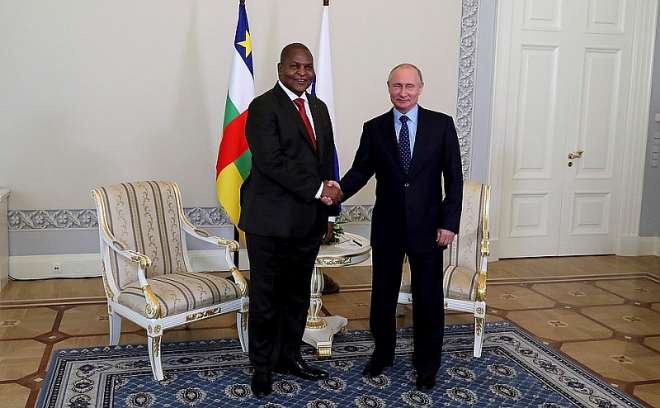 Faustin