Vodafone Partners Zenith Bank To Enhance Benefits To High-Value Customers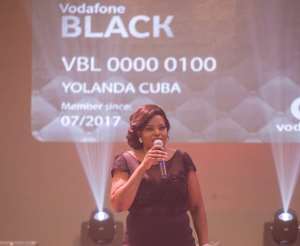 Vodafone Ghana, a leading telecommunications company, and Zenith Bank, a market leader in banking, have entered into a mutually-beneficial partnership to bring unmatched benefits to their customers.
The collaboration is to harness significant synergies from both institutions – with Vodafone offering its exclusive Vodafone Black proposition with all its amazing benefits to Zenith Bank's high-end platinum customers. Vodafone's customers will also have access to several financial products and services from Zenith's platinum banking portfolio.
The partnership will, additionally, offer customers on both sides, extended banking hours; concierge services and access to the bank's wealth management and investment advisory services. Customers will also have dedicated Vodafone Relationship Managers; exclusive invites to premium events; installation of Vodafone's super-fast Fibre to the home Internet, and many more.
Commenting, Chief Executive of Vodafone Ghana, Yolanda Cuba said: "Our partnership with Zenith Bank represents a huge stroke of inspiration for our brand –and for our Vodafone Black product. This innovation was borne out of a yearning to give our high-value customers the right mix of products to meet their needs. A Bank such as Zenith gives our product access to a wider pool of clientele and resources to elevate us to the next level."
Chief Executive of Zenith Bank Ghana, Henry Oroh, said:
"The Bank's collaboration with Vodafone is yet another relationship geared at giving the customer optimum solutions. Zenith Platinum Banking Service will enhance the lifestyles of our customers and those on Vodafone Black by offering customised solutions and strategic advice to help them meet their personal and business objectives."
The win-win partnership is expected to bring innovative experiences that will entrench the customer base of both Vodafone and Zenith Bank, whilst consolidating their market share.
About Vodafone Black:
Vodafone Black is the first personalised unlimited experience exclusively designed for ultra-high value customers. It commits to delivering specially designed products and customer experiences to invited members
About Zenith Platinum Banking:
Zenith's Platinum Banking service offers high net-worth individuals a complete suite of personal banking services, complimented by e-banking products, with a view to providing a first class banking experience.