Liberia's Weah Strikes Big! Tangibles Under 90 Days!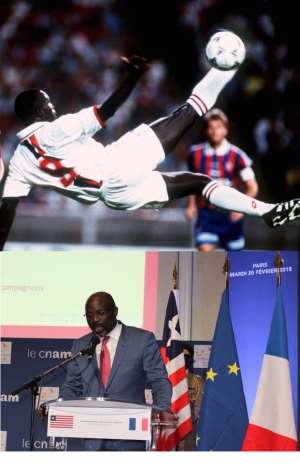 The name Weah is synonymous to 90 minutes marvels. The Soccer legend turned politician mesmerized the world in 90 minutes on the soccer pitch for almost 2 decades. With that chapter closed on him as one of the all time historical greats, George MannehWeah, who was overwhelmingly elected as Liberia's president, is set to make history with an unorthodox octopus style attack on critical national problems.
While the conventional elites propound 100 days agenda, the practical leader is assembling a fortress of pro-poor individuals most of whom have begun delivering in just 37 days. His first official visit to France yielded a grant of $10 million Euros from the French government,and a World Bankbudget support of US$20 million in addition to the US$24.7 million grant earlier given to Liberia. President Weah also secured additional financing of US$5 million from the World Bank Social Protection Program to enhance his sports agenda. He also initiated discussions leading to the front-loading of US$45 million of additional financing from Liberia's 3-year allocation of $210.
Liberians were also thrilled to learn the highway leading to the international airport dubbed death trap (because of the numerous fatal automobile crashes) will be lighted up soon. With a dismal healthcare sector and the scourge of Ebola still lingering, the president has promised to break ground for a modern military hospital, first of its kind.
The president and the First Lady who has won the hearts of Liberians for her kindness, charm and modesty,have begun to champion health and childhood education.Madam ClarWeah has been visiting and donating to hospitals and early learning centers. Students are in a frenzy having learned that they will have to pay zero dollar for WAEC exams. Most struggling parents and students have always been kept out of school because of these mandatory fees. It's understandable why they call him "Mr.Talk and Do."
Understandably change is unpleasant, so the wave of young people entrusted by this president is rocking some nerves. Here is what some are doing so far.
Jefferson Koijee: The young energetic youth leader has stunned his critics with the launching of the Green City initiative. The innovative Mayor of Monrovia clean up initiative, unlike previous attempts, is poised to be citizen driven. He understands that when power is given to the people and not used on them, they tend to be more cooperative and success is easily attainable.
Young Deputy Minister for Manpower Development at the Ministry of Labor, Atty Phill Dixon, is tackling child labor on day one. Still at the Labor Ministry, Hon. Moses Y Kollie, the new Labor minister has started enforcing the Liberianization policy by denying aliens work permits for jobs Liberians are qualified, willing and able to do. Finally, we have a president that is ready to put his people to work.
Edris Bility: the Deputy Director for operation at the General Services Agency is saving the government millions by hunting stolen and hidden government assets used by former officials. Instead of buying new cars which has been the norm, this president is interested in maximizing the utilization of all public assets to curb unnecessary spending.
Willamette Saydee-Tarr: The Minister of Gender, Women and Child Protection, also known as the mother of the revolution, on day one after assuming office put child abusers and rapists on notice. Under her watch this pervasive menace will never be swept under the rug but prosecuted to the full extent of the law.
Pro. Wilson Tarpeh: The pro poor Commerce Minister recently fined a Lebanese business group US $25,000 for arbitrarily hiking the price of chicken eggs. The economics professor understands artificial scarcity and would not let the poor masses bear the burden! Also at the Ministry of Commerce, Inspector General Josephine Davis who critics feared would be a lame duck has shown so much promise, engaging businesses and enforcing commercial ordinances.
Mabutu Nyepan: the Minister of Public Works has initiated all year road access project, making sure the rural areas will not be cut off during the rainy season. In his first cabinet meeting, the president reiterated his commitment to roads, health and education as well as youth empowerment. Roads maintenance are currently underway in Lofa and Grand Gedeh counties as he galvanized resources to have them paved.
C. Mike Doryen: FDA boss cuts his salary and has initiated immediate forest protection plans and reforestation.
Herbie McCauley Managing Director of the National Transit Authority and all his senior staffs are voluntarily cutting their salaries by 25% a saving of about USD $ 21,600, reducing fuel amount by 3,300 gallons will add another US$32, 490.00 to the entity's which will be use to increase the pay those manual worker who are being paid unlivable wages; all of this at their own volition. Now that's pro-poor 101.
Meanwhile, at his first cabinet meeting, the President challenged his Cabinet to be focused, patriotic, and selfless, warning that ministers who fail to deliverwill face replacement. At the thanksgiving service following his return from his first state visit to France, the president said, some solutions of our problems require common sense not theories. It is safe to say that the onetime striker is striking early in this match of a lifetime. To those you are waiting for 100day planand 1 year plan, the President and his fortress of appointees have resolved to win this match. With these tangibles in just 37 days even after being handed a broke treasury, with 2,193 more days to go for the half of regulation, this prolific striker and team are poised to win this game.
Boakai Boley CDC-USA