Leaders urged to practice what they preach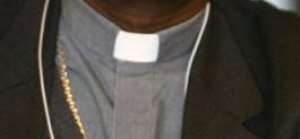 Accra, July 24, GNA - The Reverend Dr. Fred Deegbe, General Secretary of the Christian Council of Ghana on Sunday urged leaders, especially Christian leaders to live exemplary lives by practicing what they preach.
He urged leaders to put the interest of the nation first instead of pursuing their own interests, saying Christian leaders must see it as a responsibility to seek the interest of their members by praying for them.
Rev. Dr Deegbe was speaking at a thanksgiving service to mark the end of the Christian Council Week that started on July 17, 2005 on the theme: "Poverty Reduction in Ghana: The Role of the Church". He said poverty was just one of the major challenges facing the nation and mentioned lack of dedicated leadership as another major problem the nation faces. Assisting and caring for the poor and needy in society was a major role leaders should play to ensure that there was peace, Rev Dr Deegbe said.
He advised parents to take keen interest in educating their children and give them the love and care they need to make them responsible adults.
He called on Christians to pray for their leaders and give them the necessary support, saying, "We need your prayers and your moral support."