President Akufo-Addo Hosts ITLOS Lawyers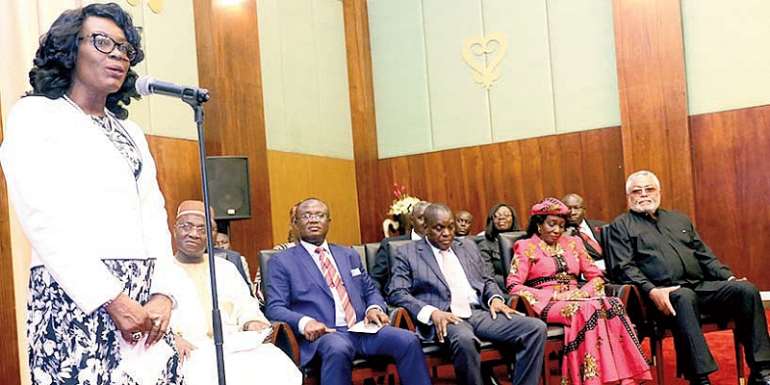 It was all smiles Thursday evening when key personalities and lawyers of both sides of the political divide met to celebrate Ghana's victory in the maritime boundary dispute between the country and neighbouring Cote d'Ivoire.
After years of litigation, the International Tribunal for the Law of the Sea (ITLOS) ruled in favour of Ghana, bringing an end to the standoff between the two countries.
But that did not come on a silver platter, as it took the efforts of successive governments, Presidents, Attorney Generals, lawyers and technocrats to win that landmark case.
President Akufo-Addo thought it wise to organise a reception to show appreciation for the efforts individuals and groups of persons put in to ensure the victory.
He invited all who were associated with the case to the Flagstaff House for the special treat.
On the side of the opposition National Democratic Congress (NDC) were the immediate past Chief of Staff, Julius Debrah; immediate past Attorney General and Minister for Justice, Marietta Brew Appiah-Oppong; Muntaka Mubarak, Second Deputy Speaker of Parliament; Alban Bagbin, former MP for Kumbungu; Benjamin Kunbuor, immediate past Secretary to President Mahama; Raymond Atuguba, immediate past Deputy Minister for Education; Samuel Okudzeto Ablakwa, immediate past Minister for Roads and Highways; Inusah Fuseini, immediate past Minister for Energy; Kofi Armah Buah, former Youth and Sports Minister; Akua Sena Dansua, immediate past Minister for Lands and Natural Resources, Nii Osah Mills and James Klutse Avedzi.
The ruling New Patriotic Party's (NPP's) side were the Attorney General and Minister for Justice, Gloria Akuffo and her Deputy, Godfred Yeboah Dame; Minister for Parliamentary Affairs and Majority Leader, Osei Kyei-Mensah-Bonsu; first Deputy Speaker, Joe Osei Owusu; former Minister for Lands and Forestry, Dominic Fobih; Energy Minister, Boakye Agyarko; current Minister for Lands and Natural Resources, Peter Amewu and a host of others.
Among them also were the Chief of Staff, Frema Osei Opare; Chief Justice, Sophia Akuffo; Supreme Court judge, Justice Kwasi Anin Yeboah, as well as former President Jerry John Rawlings and his wife, Nana Konadu Agyeman-Rawlings.
Legal Team
The legal team, tasked by former President Mahama to litigate the matter, was headed by the then Attorney General, Marietta Brew Appiah-Oppong.
Others were the Solicitor-General, Helen Awo Ziwu; Fui Tsikata; Jane Aheto; Vivienne Gadzekpo; Pearl Akiwumi Siriboe; Azara Prempeh; Adwoa Wiafe; Godwin Djokoto; Anita Lokko; former Solicitor-General, Ama Gaisie; Solomon Korbieh; Sylvia Adusu; Korshie Gavor; Patmos Addae; Roselyn Addai; Nabeela Wahab; Dr. Kofi Mbiah; Etta Mensah and Zeinab Ayariga.
They were aided by well-known international maritime lawyers – Phillippe Sands, Daniel Alexander, Clara Beillembourg, Pierre Klein, Alison Macdonald, Paul Reichler, Anjolie Singh, Nicholas Renzler and Alejandra Torres Camprubi.
The lawyers were ably supported by a group of competent geologists, surveyors, maritime boundary experts, among others, led by Dr Lawrence Apaalse.
Upon assumption of office in January 2017, President Akufo-Addo also constituted a legal team, headed by the new Attorney-General, Gloria Afua Akuffo; Deputy Attorney-General, Godfred Dame; H. Kwesi Prempeh; Anthony Akoto Ampaw and Peninnah Asah Danquah.
He insisted on his team working together with the team led by Marietta Brew Appiah-Oppong and the foreign lawyers.
He was therefore convinced that "it was the cooperative effort of all of them that secured the famous result of 23rd September, 2017, for our country."
Commendation
"To each and every one of you, we say 'ayekoo!' Ghana is indebted to you. You have helped guarantee not only the possibilities of development, progress and prosperity of our country, but also that of successive generations of Ghanaians yet unborn, who will be beneficiaries of the revenues, hopefully, to be accrued from the commercial exploitation of our maritime resources and potentials," he said to celebrate all who contributed in diverse ways towards the victory.
"This victory could not have been achieved through the actions of one person, one political party or one government. It has been a collective effort, and the important roles played by successive presidents and governments should not be overlooked, discounted or understated."
Tribute1
Hailing the role played by successive governments, President Akufo-Addo noted that it was under the farsighted leadership of former President J.J Rawlings that the Ghana National Petroleum Corporation (GNPC) was established.
GNPC, the president said, was set up to be a strategic and commercial vehicle to help accelerate the pace for the exploration of oil and gas, and under the leadership of Tsatsu Tsikata, he played a pioneering role in gathering, analysing and interpreting data for oil and gas exploration, and began to attract other companies to participate in the exploration.
Recollections
"It was under the leadership of my former boss, President of the Republic, His Excellency John Agyekum Kufuor, that GNPC was restructured to ensure that it focused on its core activity of exploration, and the promotion of the oil and gas potential of the country," President Akufo-Addo said.
He continued, "Under him, the fundamentals of our macro economy were stabilised, enhancing our appeal as an investment destination. A combination of the new fiscal regime and GNPC's promotional activities yielded results, as a number of oil exploration companies invested in Ghana, which led to the discovery in 2007 of the Jubilee Fields, followed by a quick succession of other discoveries, including the TEN fields."
President Akufo-Addo also recounted how in July 2008, Ghana began preparations for the establishment of the outer limits of the continental shelf beyond 200 nautical miles, and highlighted the unique role played by the then Minister for Lands, Forestry and Mines, Prof Dominic Fobih, who discovered and brought to the attention of President Kufuor's administration, the conditionality of the United Nations Convention on the Law of the Sea (UNCLOS) approaching deadline of 13th May, 2009.
The president noted that in 2010, the late President of the Republic, John Evans Atta-Mills, set up a 10-member Ghana Boundary Commission to undertake negotiations with Cote d'Ivoire to delimit the maritime boundary.
"It was in 2014 that my immediate predecessor, His Excellency John Dramani Mahama, took the courageous decision to initiate arbitration. Through a Notification and a Statement of Claim dated 19th September, 2014, Ghana invoked the jurisdiction of ITLOS, after ten rounds of negotiations between Ghana and Cote d'Ivoire had not yielded any result. In turning to the Tribunal, Ghana's primary objective and interest was to secure legal certainty, and thereby, bring finality to a dispute with a valued neighbour," he recounted.
Upon his assumption of office in January 2017 and to continue from the work that had been done, President Akufo-Addo said he constituted a legal team – headed by the new Attorney General Gloria Afua Akuffo – and the team worked together with the one led by the former Attorney General as well as the foreign lawyers.
"It was the cooperative effort of all of them that secured the famous result of 23rd September, 2017, for our country. And, I am glad to see that several of the foreign lawyers have been able to join us for this brief ceremony. Happily for me, it has been during my presidency that Ghana received the joyful news of this victory," he added.
By Charles Takyi-Boadu, Presidential Correspondent