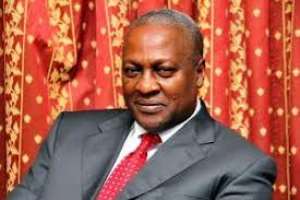 The 2016 electioneering period was a memorable one. The entire NDC rank and file was full of optimism. Optimism on the wings of 'JM Toaso.' We shouted 'edey bee keke,' danced to the 'Onapo' lyrics, actively championed and campaigned aggressively for John Mahama. And we collectively stood by him until his 'comfortable lead' suddenly evaporated into the ether.
Yes, it was a fun-filled campaign backed by powerful slogans and massive resources. We all believed and worked for it. Then the sad reality dawned on us that sloganeering and money alone don't win elections.
John Mahama lost the election needlessly and we must think honestly as we move forward. I know many who feel indebted or so close to him that it's hard to see otherwise. I can't fault their loyalty. Many of these political neophytes had their major life changing experiences under John Mahama and so it is perfectly alright for them to hear no evil, see no evil, and speak no evil just so they can continue to keep their 'trailer park king.'
But then again, the test of loyalty is never to just blindly agree with someone, rather to speak up when they screw up.
I've had my own issues with Prof Mills as a leader of the NDC but he left behind a vibrant and solid electoral machinery. Indeed, the horse that was handed over to John Mahama was an agile one. It wasn't lame as we are being told. Perhaps, we had an overfed jockey who lost track of himself.
This is man who went into the 2012 elections as vice president/President after the demise of the sitting president. He campaigned for little over 3 months and won a pyrrhic victory.
Four years on in 2016, he run on his own records as President with all the advantages of incumbency, and lost in a humiliating fashion with over one million vote margin.
I am completely taken aback by folks who still believes we actually run a winning campaign and lost. Maybe they just don't know any better. We did not run a winning campaign. Opulence and money was not enough and in many instances very harmful to our cause. We were grossly outclassed by the then opposition on all fronts. Our messaging was off in many areas and for the first time in the history of NDC politics, the candidate isolated himself from the party machinery, forgetting that he could never have succeeded as an independent candidate and that whatever he represent was possible because of the party.
The refrain at the time was; "Mahama's popularity has won the elections," "the president has won already." And our over reliance on this made us bankrupt of thinking. The candidate himself was unwilling to listen to voices other than those in his inner circle. Tried and tested 'Generals' and senior cadres who have seen it all were told to take a back seat because Mahama's popularity alone was enough.
One would have thought that the Kwesi Botchway 'corpse dressing' committee report will propped Mahama up in a different direction, but not at all.
John Mahama is doing the same things that caused him the election. I see the same silly sycophantic behaviour by those scheming to stage his comeback. The know-it-all arrogant Mahama hangers-on are doing the same Mahama image politics which failed abysmally in the last election. Even Mahama's own public utterances shows he has no remorse for the loss.
Listen to his unexciting justifications - we lost the elections as a result of 'multifaceted reasons. Then came his refuge in 'global trend,' 'act of God and 'incumbency disadvantage'- whatever that means, only Mahama knows. But really, if indeed the loss was due to all these factors, why are we out there on reorganization mission? Why is Mahama telling us that the horse is lame and needs resuscitation? This sort of scapegoating and wilful ignorance is so malicious, and folks must get it.
There is no point applying clean bandaid for a rather infected wound. We need serious antibiotics to get rid of the infection.
The damage caused to the John Mahama product is beyond repairs. The issues that led to the rejection of Mahama at the polls in 2016 are still hot on the lips of the average Ghanaian. Indeed, the current government has started some processes aimed at nailing a few of Mahama appointees so as to justify the corruption rhetoric they put out during the campaign.
People should wake up and smell the coffee, and stop fabricating false narratives existing in an alternative reality to push for Mahama comeback. It won't help anyone but rather sink the party further.
For me, Mahama brings virtually nothing to the table as a candidate in 2020, looking at how he reduced our electoral fortunes from 50.7 in 2012 to 44.4 in 2016 as a sitting president. If you lose miserably by that margin as President, how can you possibly overturn that in opposition?
It will be a huge gamble for NDC to bring back Mahama as the party's presidential candidate for 2020, because if he loses (which is very probable), it means more years in opposition for the NDC.
Then again, if he losses 2020, will he return in 2024? And will this not further tear the party apart? Shouldn't we be looking at two-term candidate instead of just one-term candidate?
It will be better for the NDC to lose 2020 with a 'fresh candidate' and come back stronger in 2024 than to lose 2020 with Mahama as candidate.
Our party is in need of a strong center and a leader that would be acceptable by all.
Let's not engage in a needless battle with reality. Mashed potatoes will never look good and so John Mahama should just admit the wrongs, get behind and let a new candidate do a mob up. Then the NDC can have a clear way.
More Anon....