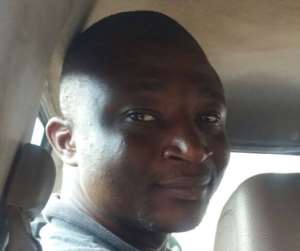 Adam Alhassan alias Dogo America, before he was killed
A member of a gang who allegedly killed Constable Michael Kporyi at Yellow Signboard, a suburb of Michel Camp in Tema, Greater Accra Region, last Monday, has been shot dead in what is seen as reprisal attack.
The deceased, Adam Alhassan alias Dogo America, 33, who resided at Washington, near Michel Camp, was killed Tuesday when a police team stormed his house at Washington, a suburb of Zenu, near Ashaiman.
Four other persons were said to have been apprehended at the premises of the house to assist with investigations.
It is believed that the deceased commanded at least 60 trigger-happy land guards with a stockpile of arms and ammunition, some of which had earlier been retrieved by the police.
Prior to his death, Adam Alhassan was said to be on police wanted list for some time.
Confirming the killing to journalists at a news conference yesterday, DCOP George Tuffour, Tema Regional Police Commander, claimed that his outfit picked intelligence that a group, led by Adam Alhassan, was behind the killing of 32-year-old Constable Michael Kporyi, who was attached to the Rapid Deployment Force (RDF) under the Command.
According to him, intelligence revealed that some armed members of Alhassan's gang had gathered at Aviation No.7, Washington.
Consequently, a team of police personnel from the Regional Command were deployed to the place.
"Upon sighting the police, two of the gang members fled on a motorbike and were pursued by the police into a building which turned out to be the house of Dogo America," according to DCOP George Tuffour.
He revealed that his personnel followed them into the house where they saw one AK47 assault rifle and one submachine gun (SMG) on the terrace of the house being serviced.
The regional commander further stated that two persons who were also on the terrace were apprehended by the police, saying that the suspects mentioned Dogo America as the one servicing the weapons but disappeared upon seeing the police approaching.
As the police entered one of the rooms, DCOP Tuffour noted, Dogo America suddenly dropped down from the ceiling armed with an SMG fully loaded and aiming at the police.
He added, "Police promptly fired at him and rushed him to the police hospital where he was pronounced dead."
Commissioner of Police (COP) Christian Tetteh Yohunu, Director General of Police Operations, added that strategies were being outlined to pursue other members of the gang and appealed to the public to provide them with information to make Tema and its environs safe for law-abiding citizens.
Dogo America was said to be involved in several criminal cases such as robbery, possession of firearms, attempted murder, causing harm and the use of offensive weapons, which were under investigation at the Criminal Investigations Department (CID) headquarters of the Ghana Police Service.
He was said to have been granted bail in all cases, but jumped bail for which reason he was placed on the police wanted list.
One AK 47 rifle, two SMG rifles, a dagger, machete, a pair of pliers, 2 screw drivers and 12 rounds of live ammunition were said to have been retrieved from his residence.
Preliminary investigations conducted, according to the police, revealed that on July 30, 2015, two AK 47 rifles and ammunition concealed in a sack were retrieved by the police from his hideout at Doryumu, leading to his arrest.
Also, sometime in November 2016, eight weapons were retrieved from Alhassan at his block factory at Gbestile, a community near Washington.
On Thursday, June 8, 2017, a member of his gang also engaged the police in a shootout at Community 9, Tema, which resulted in the death of a gang member.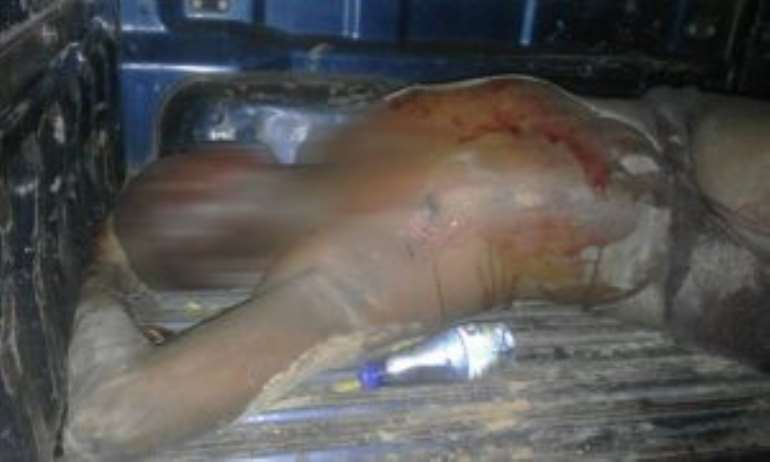 Remains of the purported land guard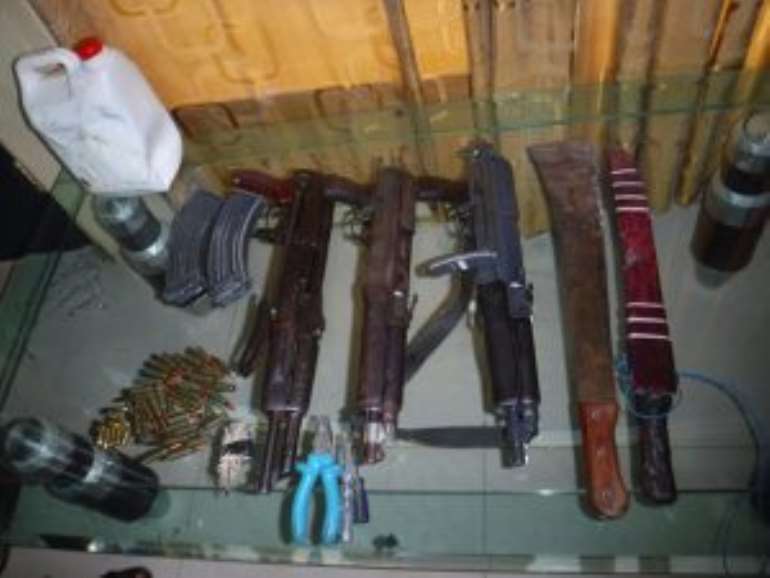 Exhibits retrieved From Vincent Kubi, Tema