Nyakrom Omanhene Advocates For Dispute Free Chieftaincy Institution
News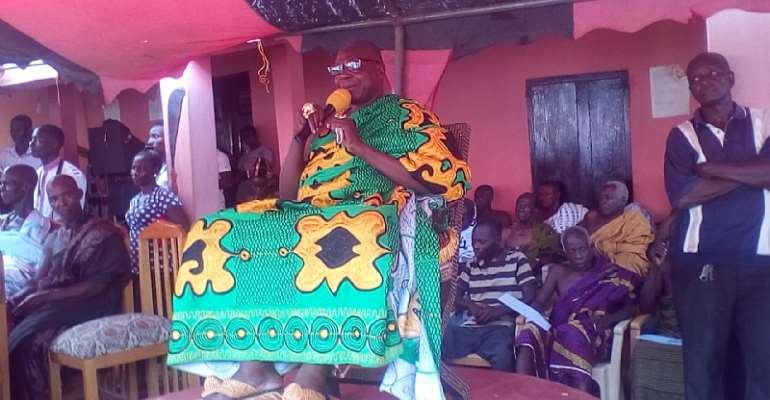 Okofo Katakyie Nyaku Eku X, Omanhene of the Agona Nyakrom Traditional Area in the Central Region is strongly advocating for chieftaincy free institutions across the country.
" To foster unity in our communities, I would like to appeal to various kingmakers to be extra discipline in choosing rightful person to occupy royal stools when they become vacant.
The truth of the matter is that, most of the time some kingmakers fail to trace proper linage in line of kingships. They ought to seek all the Royal Gates and to select accordingly the rightrightful person for the stool.
It is sad that our chieftaincy institution has been planked into various forms of deadly conflicts resulting to threat of human lives and even killings in many circumstances
The kingmakers should always ensure proper rotation of occupants among the Royal Gates to ensure fairness, peaceful coexistence, stability and development to our communities and the nation as a whole"
The Agona Nyakrom Omanhene stated these at the installation of Obrempong Kofi Appoh III,as chief of the Twidan Royal Family of Agona Nyakrom last Saturday. He subsequently sworn an oath of allegiance to the Omanhene.
Obrempong Kofi Appoh III known in private life as Mr. Kojo Owusu a Cocoa Purchasing Clerk of Transroyal Cocoa Buying Comapy Ltd, succeeded his late uncle Nana Appoh II who died about 12 years ago.
Okofo Katakyie Nyaku Eku X lauded the Twidan Royal family for the peaceful manner in which the successor was chosen to occupy the stool urging all kingmakers to emulate their shining example.
" I have observed the positive contributions of this Royal family towards the development of Agona Nyakrom and its surrounding communities in the time past and hope same would be done in the years to come.
In consultation with the Agona Nyakrom Traditional Council, I wish to announce that Obrempong Kofi Appoh III has been elevated Benkumhene status in Agona Nyakrom to assist the development of Agona Nyakrom "
Later in an interview, Obrempong Kofi Appoh III shown his appreciation to the Omanhene for the confidence imposed in him adding he would work assiduously to improve the lives of the people.