The Deluges And The Floods
Opinion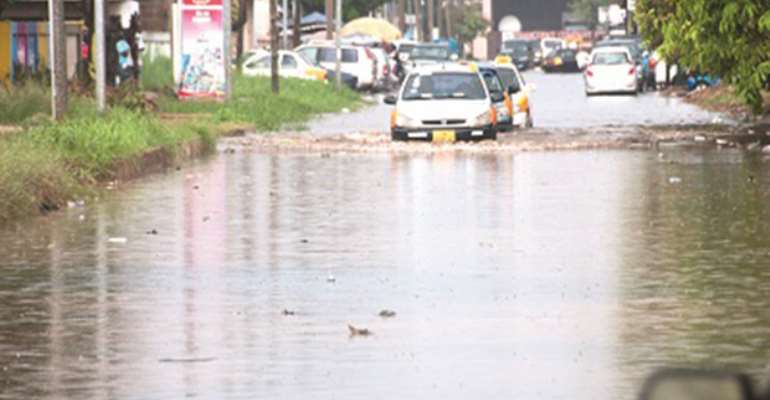 After a seeming lull with people wondering whether the rains would come to Accra or not, the deluges appear to have come at last bringing with them apprehension and relief.
Those used to experiencing floods in their parts of the city must be frightened at the prospects of a repeat of previous nightmares occasioned by even fatalities. For others, though, it is time to enjoy the fallen temperature. Even such persons too would exercise a certain measure of fear in a city where some of the roads easily get flooded, posing all manner of danger. After all, the disaster which claimed many lives around Circle was not restricted to residents in the neighbourhood but others who were coincidentally in the vicinity when the tragedy struck.
Not much has been done to achieve different results regarding the integrity of our drainage system which are still what they were when we recorded some of the worst disasters in the nation's capital.
Yesterday's downpour, not too much but recording flooded streets, told a story about how we are still nowhere near possessing a drainage system we can count as being reliable and able to contain whatever volume of rainwater.
We were told a few months ago about how floods would be a thing of the past but we can bet that in the event of a consistent of an hour of a downpour we would feel threatened.
If it is about funding and stepping on the toes of people just so lives and properties are saved why don't we do it and save ourselves from avoidable calamities?
We would say it for the umpteenth time that waiting for the havoc to occur and then politicians go round commiserating with victims and throwing blankets and tins of milk and the like is not the answer to these challenges.
Managing a city like Accra and knowing the nature of her residents, the city authorities must tread a middle ground. The stubborn ones are still maintaining their positions on the waterways ignoring good counsel to move out of these places. The price of their stubbornness can only lead to avoidable havoc and even deaths. Need the authorities fold their arms for these negativities to take place before they step in with the necessary intervention?
There is nothing the city engineers do not know about how to save Accra from floods. What they do not have, however, is how to muster courage and take the appropriate steps to reverse the conditions which bring about the avoidable consequences.
The rains are here. Are we ready? Certainly not.