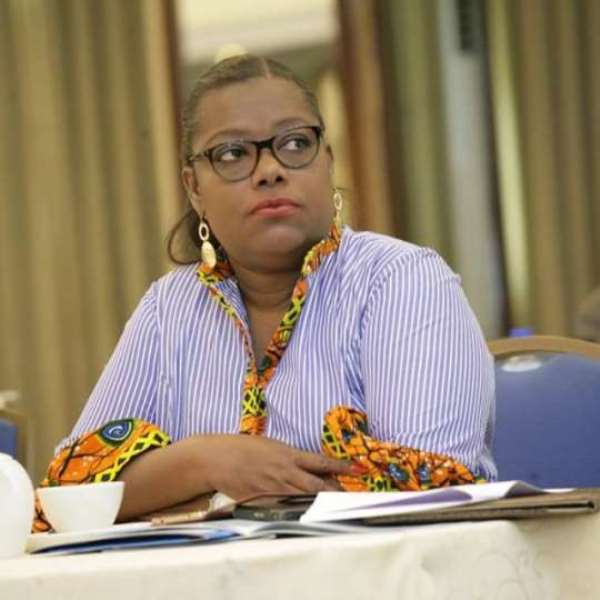 By Iddi Yire, GNA
Accra, Sept. 16, GNA - Nana Oye Lithur, Minister for Gender, Children and Social Protection, has urged women not to allow themselves to be intimidated by anyone in their quest to participate in a governance role.
She urged women to make themselves visible and be heard, and that they should not let anyone intimidate them in whatever role they want to play as they seek to contribute positively to the growth and development of the country.
She urged women to join voices with women groups seeking for the general well-being of all Ghanaian women.
Nana Oye Lithur said this in Accra during a day's summit on "What Young Women and Girls Want in 2016 Ghana Elections".
The event was organised by Moremi Initiative for Women's Leadership in Africa in partnership with United Nations Women Central and West Africa and with support from the United States Embassy in Accra.
The summit is a non-partisan dialogue to articulate and ensure that the interests, voices and desires of young Ghanaian women and girls matter in the 2016 electioneering period.
Nana Oye Lithur urged women to start building their capacities to be able to stand for or to be appointed to higher positions in government and business.
"Don't be apathetic at all about the upcoming elections. Participate by voting the right government that has proven to have your interest at heart into government," she said.
"Preach and lead the peace process, because experience has proven that the most affected people in times of war and conflict are women and children," she said.
She said: "I want peace before, during and after the 2016 general election. No matter my political or partisan interest, I want to be in a country where my children can go to school peacefully and come home in one piece.
"I want to be able to leave home and know that there is no one threatening my life and that of my loved ones."
Nana Oye Lithur also urged women to take advantage of opportunities of platforms created to negotiate for more spaces for women in decision-making roles in all levels of leadership.
The Gender Minister announced that the Affirmative Action (AA) Bill had been approved by cabinet, and that she was confident that it would be passed by Parliament by the end of the year.
She said the purpose of the AA Bill is to promote the full and active participation of women in public life by providing a more equitable system of representation in electoral politics and government structures.
Mr Daniel Fennel, the Public Affairs Consular of the US Embassy in Accra, said the US Government is committed to ensuring that Ghana witnesses another peaceful, free, fair and transparent general election on December 7.
He said the US had interest in seeing to it that young people rise to leadership position in Africa.
He said President Barack Obama's Young African Leaders Initiative (YALI) is a signature effort to invest in the next generation of African leaders.
Mr Mawuli Dake, the Co-Founder, Moremi, said young women constitute one of the most powerful demographics in Ghana today- in numbers and in collective potential.
He said the choices this generation of young women make would not only shape their lives, but that of a whole new generation of boys and girls in Ghana.
He said the 2016 general election is a critical opportunity for girls and young women to contribute to the agenda setting and public policy process in Ghana.
The mission of Moremi Initiative is to engage, inspire and equip young women and girls to become the next generation of leading politicians, activists, social entrepreneurs and change agents.
Moremi is based in the US and Ghana and operating throughout Africa.
GNA