The Sorry State Of Ghana's Educational Standards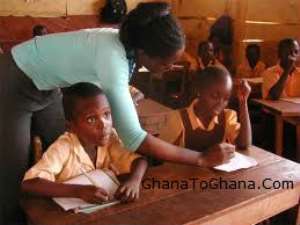 File Photo
And the debate goes on unbatedly, has the alleviating of poverty been squared off by letting people sit in mono desks and lecture theatres? Was the introduction of school wrapped up under a bile intent of making making money or impacting knowledge?
I have no problem with people going to school. My interest lies in what people become after completion of studies. My interest has got everything to do with the lies and concotions urped around to the detriment of the swallowing whole(s). I have deliberately left out education; simply because what goes on here in Africa is schooling. We have misconstrued schooling for education; the bane of our progress as a continent. Our teachers and lecturers put us through training but we educate ourselves. Education is synonymic to salvation; it's an individual responsibility. I'm open to any doonybrook on any given day with reference to school vrs education.
The problems we face as country and the counter-solutions we lay bare is a reflection of what we learn in classrooms; and mostly we do not go beyond them (classroom materials), juxtaposing the repetead problems of successive governments. Every end of semester examinations follows a sequence of past questions, smart students pass with ease upon identifying the terrain of the examiner. In the world of work, these nitty gritties of master, chew and pour are not applicable, the luminous reason for such high unemployment rate.
Employers however do not find the urgency to create additional job space since the already existing ones have not been fully utilised. The mojo to sustainable governance is not the number of PhD holders in a government's appointments but the impeccable fuse of modern times economic preambles with anticipated future occurrences. This requires critical thinking and only few are likely to put themselves up for such tasks.
It is lucid why our graduates and postgraduates are made to assist in the kitchen, vehicle valleting, etc when they find themselves in Europe or America- employers simply do not trust their academic credentials, they make way with menial jobs they may never do in their home country (it pays well after all).
The Ghanaian school system needs a thorough purging and massive facelift. Which political party has this sorted out? I will vote for a political party who has structures to upgrade our schooling and educational structures but not necessarily promising free or progressively free education. Dr. Patrick Awuah is chattering a similar path with his Ashesi. Who follows suit? We at www.felixkwakudua.com believe the hour to do it is now or never.
Kofi Nti Boateng
Source: www.felixkwakudua.com