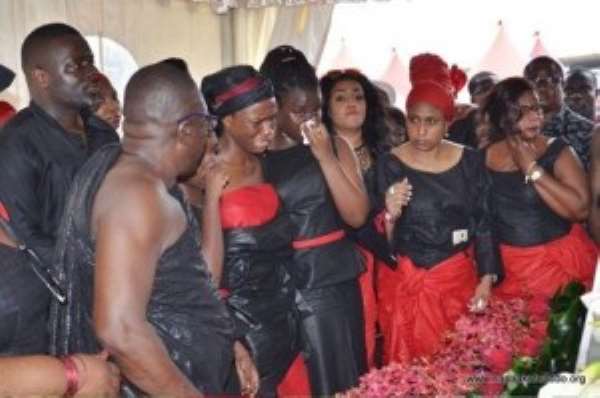 A state funeral and memorial service for the late Joseph Boakye Kyeretwei Danquah Adu, former Member of Parliament for Abuakwa North, was on Friday held at the forecourt of the State House in Accra.
The MP's funeral attracted a large crowd of mourners, including President John Dramani Mahama and his wife, Lordina, and Vice President Kwesi Amissah Atta, who were there to pay their last respects to the politician who was stabbed to death by a suspected assailant, Daniel Asiedu, on February 9, at his Shiashie residence in Accra.
The Speaker of Parliament, Edward Doe Adjaho, former President Jerry Rawlings and his wife, Nana Konadu, former President John Kufuor and Chief Justice Georgina Wood were all present to grieve with the august House, the family, and Ghanaians on the loss of the legislator, who colleagues and others testified to his affability, generosity, sharp mindedness, and high sense of duty.

Other high profile personalities present were Nana Addo Danquah Akufo-Addo, presidential candidate of the main opposition New Patriotic party (NPP) in election 2016, his vice presidential candidate, Dr. Mahamudu Bawumia, the acting Chairman of the NPP, Mr. Freddy Blay, as well as the embattled suspended Chairman, Mr. Paul Afoko, Mr. Kwabena Agyepong, suspended General Secretary of the NPP, and Mr. Alan Kyerematen, a leading member of the party.
There were mourners from the leadership and membership of Parliament, from across the political divide, including government functionaries and past government officials, as well as the clergy and traditional rulers, and people from all walks of life, who paid their last respects to the 51-year-old politician, who left behind a wife and two girls.
The sense of loss was expressed in the wearing of deep black cloths, with red and white overlays by mourners who filed past the body of the murdered MP, which lay in a casket bedecked in garlands of flowers and wreaths, mostly in white, with green colours below.

The ceremony was solemn, as mourners observed the proceedings in silence, with tearful tributes by the wife, and the leader of his political party, the NPP, his elder brother, Frank Adu, the state which was read by Mr Mahama Ayariga, on behalf of President Mahama, and that of Parliament, read by Mr. Joe Ghartey, Second Deputy Speaker.
As the tributes poured in, the atmosphere became emotional, with wails, tears and dirges recounting the loss of the gentleman who served in the Kufuor administration in 2005 as the Deputy Minister of Women and Children Affairs, and known to have impacted many lives with his generosity and care for the under-privileged, especially, in his constituency.
In an emotional tribute, the wife of the late MP, Mrs. Ivy Boakye Danquah Adu, said that barely 20 months into their marriage, her husband decided to enter politics.

"I prayed, fasted, wept and pleaded with him not to. I employed all my wisdom and naughty tricks to stop him, but to no avail. I had to live with the reality of sharing him, and I learned to value the little time I spent with him, as he has ceased to be ours alone. He lived for his people. His country was his raison d'être. JB believed in Ghana just as his grandfather, Dr J.B. Danquah, the doyen of Ghanaian politics.
"JB believed he had a divine calling to serve his motherland, and he was happy to go any distance in that quest. His greater good of his constituents was momentous, and his services to Ghana were paramount," she said. "Kofi, as we lay you to rest, we bury only your body. Your spirit, your soul and your amazing ability to give selflessly will continue to live with us," she added.
Mr. Ayariga, on behalf of President Mahama, said the late MP represented the promise of the youth, combining active politics with entrepreneurship. According to the Minister, the late MP was a decent and reconciliatory character, who was admired by all, adding that the nation appreciated his contribution to nation building, and wished that the good Lord gives him good rest.

Nana Akufo-Addo, in his tribute, said the late J.B. Danquah was a firm believer in the Busia/Danquah tradition, and committed himself to every cause of the NPP.
"The party has lost a positive party spirit," he said, pointing out that his sudden demise is a big blow to the party. "J.B. was not only intelligent, but was a strong advocate for private sector development," he noted. He, however, said there is a bright future for the party, despite such a big loss.
Mr. Ghartey, flanked by the Majority Leader, Alban Bagbin, and Minority Leader Osei Kyei Mensah-Bonsu, said the late MP, who was a distinguished statesman, would always be remembered by Parliament as somebody who was primarily concerned about nation building.
"J.B. was a strong advocate for a transformational change, and saw this as a condition precedent to sustainable growth and development, and, therefore, called for consistent and sustained effort in this regard," he said

Reverend Dr. Jonathan Ayitey Mensah of the Ridge Church in Accra, who officiated the memorial service, was at a loss as to why the late politician's life would be nipped in the bud in a gruesome way, and asked the government to ensure that justice would be done to the perpetrators of the heinous crime.
"I know God is in control, and He will strengthen the widower, his children, family members, and also beloved ones who have converged on the State House to pay their last respect".

The cleric called on politicians to emulate the selfless and honest life of the late J.B. Danquah, saying, "I want our politicians to always identify themselves with [the] suffering masses, as J.B Danquah did." Wreaths were laid on behalf of the government and people of Ghana, the party, the family and well-wishers.
After the burial service, the body was put in a hearse and sent to his factory premises in Tema for his workers to also pay their last respects.  He was buried at Akyem Tafo, after which traditional funeral rites were held for him.
Source: GNA