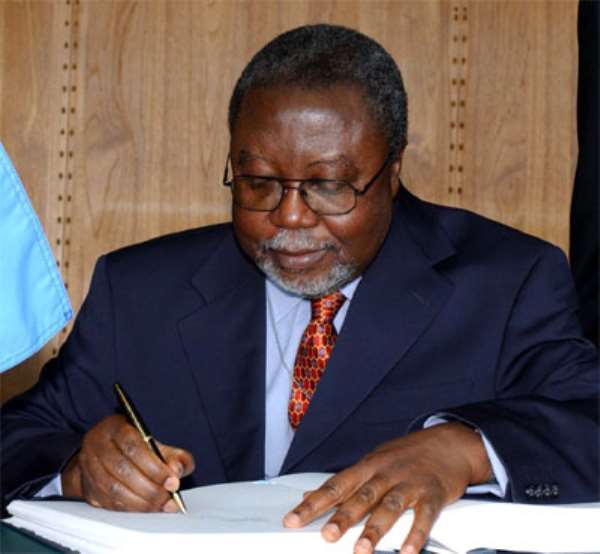 (WASHINGTON, December 17) — In presidential and parliamentary elections held in Ghana on December 7, incumbent President John Agyekum Kufuor was re-elected with 52 percent of the vote. The main opposition candidate received about 44 percent, while two minor party candidates shared about 3 percent.
Domestic and international election observers agreed that the contest was free, fair, and transparent. For example, speaking for the AAEA (Association of African Election Authority), Dr. Abel Guobadia, Chairman of the Independent National Electoral Commission of Nigeria, said:
"The transparency of the whole electoral process, notwithstanding the isolated irregularities, makes the Ghanaian electoral system a beacon of hope for democratic development on a Continent bedevilled with electoral disputes." This assessment of the election process was shared by representatives of the European Union (EU), Economic Community of West African States (ECOWAS), and the Elections Observation Committee of the Religious Bodies (a group of Ghanaian religious leaders). Ghana, many observers noted, is one of the few countries in Africa to have held four consecutive multiparty elections since 1992.
Ambassador Fritz Kwabena Poku, who has served as his country's envoy to Washington since August 2004, was particularly pleased with the peaceful and efficient fashion in which the elections took place.
Ambassador Poku noted: "Ghana has long laid claim to its historic status as Africa's first independent democracy. This 2004 election proves once again that this claim is not merely historical or cosmetic – it is something substantial." The Ambassador said that the election results were a clear vote of confidence in the leadership of President Kufuor, whose administration has seen many improvements over the past four years. According to Reuters, for instance, "Under Kufuor's leadership, Ghana's inflation rate has dropped to 12.5 percent from 40.5 percent, bank lending rates have more than halved, foreign exchange reserves strengthened and a slide in the currency, the cedi, has slowed."
In addition, the Ambassador pointed to Ghana's steady improvement in Transparency International's rankings of levels of corruption. "President Kufuor has been an effective agent of change by combating corruption, economic stagnation, and social injustice. By every measure, the life of Ghana's people has improved since President Kufuor took office, and the election on December 7 confirmed this as true in the eyes of Ghanaian voters."
Making an analogy to American history, Ambassador Poku said: "The 2000 election which brought President Kufuor to office was Ghana's first election to see a transition of power from one political party to another. It was similar to the 1800 U.S. election in which Thomas Jefferson, a Republican, replaced Federalist John Adams."
The Oxford-educated President Kufuor said in a speech to the Ghanaian people on December 10: "The nation has demonstrated its commitment to democratic governance, and furthermore it has proven itself to the whole world as mature and united to be the beacon of democracy."
Expressing his overall thoughts, feeling, and pride on the presidential and parliamentary elections, Ambassador Fritz Poku said that "they are a way of testing the democratic health of the country," explaining that, since Ghana has passed through this test, "it behooves all Ghanaians, regardless of their political persuasions or affiliations, to respond to President Kufuor's call for all to put their hands to the wheel to achieve economic transformation." He added that the elections fulfill the hopes of President Bush, who told the Ambassador on the occasion of presenting his Letters of Credence at the White House: "There is one thing in common which bind me and President Kufuor" – namely, that was that they were both seeking re-election for a second term in parallel elections that emphasize the entrenched democratic values shared by Ghana and the United States.
For further information about Ghana's recent election, contact the Embassy of Ghana at 202-271-0285.