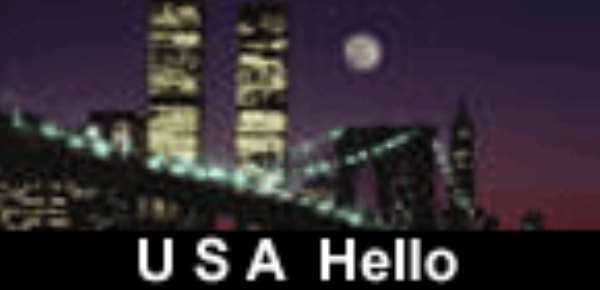 ...5-week-old is a citizen, but only he could stay here Jade Odum became a U.S. citizen the day he was born in Northern Kentucky five weeks ago.
But his future in this country is far from certain.
He is among a growing number of children caught in a legal quagmire they didn't create: His parents are not citizens, and immigration officials want to deport them.
Jade has been in Kentucky's children services system for two weeks because his parents, both college students from Ghana, are in jail on charges of falsely claiming to be U.S. citizens.
His parents' predicament has left the newborn facing an indefinite separation from his parents while their case makes its way through the federal courts, a process that could take weeks or months.
And it has left his parents facing the prospect of one day either leaving their child behind in America or taking him back with them to Ghana in western Africa.
"They'll have to make a decision," said Firooz Namei, one of the lawyers for the boy's mother. "How do you do that? It's very sad."
Although immigration officials don't track how many parents must make such a decision - which Namei described as a "Sophie's choice" - most agree that the numbers have risen with tougher immigration enforcement since 9/11.
U.S. Immigration and Customs Enforcement (ICE) expelled more than 157,000 non-citizens during the past fiscal year, a record.
Officials say it's increasingly common for immigrants to be parents of children born in the United States.
Since they were born here, the children are citizens of this country.
Some parents come in hopes of getting better medical care or educations for their kids, a pattern that has drained tax dollars and resources in border states such as California and Texas. Others, such as Jade's parents, come legally on student or work visas and become parents while they are here.
"It's a difficult situation," said Gail Montenegro, spokeswoman for the ICE regional office in Chicago, which oversees cases in Kentucky. "You are dealing with children who are born here and have every right to be here. But we have to enforce immigration laws."
Officials say Jade's parents broke the law when they "falsely and willfully" represented themselves as citizens of the United States. They were arrested Nov. 18.
Immigration officials say Jade's mother, Yaa Boateng, arrived from Ghana on a student visa in early 2003 to study at Northern Kentucky University. They say she later dropped out, invalidating her visa and putting her in violation of immigration laws.
Namei said authorities might suspect that while she was here as a student, she falsely claimed to be a citizen in order to work.
He said Jade's father, whose name was not released and could not be reached Monday, also is in custody on the same charges. A request to interview Boateng was turned down Monday by the U.S. Marshals Service.
A public defender, Lisa Bushelman, asked a federal magistrate Monday to release Boateng on bond so she could be with her child. But the magistrate said Boateng must first make a request for her release with immigration officials and then, if they refuse, try again with an immigration judge.
"We are definitely in limbo right now," Bushelman said. "Everybody is trying really hard to help her. It's just such a strange set of circumstances."
Bushelman said Kentucky's Cabinet for Health and Family Services now has custody of the child.
A spokesman for family services said he did not know specifics about the case.
The charges against Jade's parents carry a penalty of up to six months. The bigger issue, however, is the deportation order that would inevitably follow a conviction.
It's at that point the parents would be forced to decide whether to take Jade back with them to Ghana or to leave him behind. Bushelman said she doubts her client would opt for the latter.
She said her immediate concern is reuniting the mother and child.
"This is very difficult for her," Bushelman said. "It's not the most positive thing for a mom."
If the child does return with his parents to Ghana, he would retain his citizenship and could come back to the United States at any time.
Immigration officials say they would not stop such a return. But if Jade's parents are convicted, authorities might prevent them from ever returning.
Although Namei and others have criticized ICE's tough stance, immigration officials say enforcement of such laws is necessary to maintain the integrity of the immigration system.
They have cited the 9/11 attacks as proof that criminals and terrorists can exploit lax enforcement. Montenegro said any immigrant who breaks the rules is responsible for his actions, whether or not he has children.
"That individual made a choice at some point," she said, "knowing that the possible repercussion could be deportation."