Assignment For You, Anita D'Souza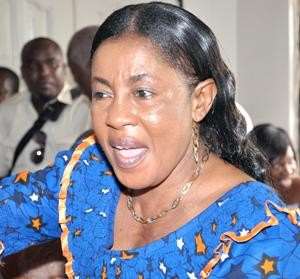 It is ironic, but theirs is a disaster brewing over the horizon in Cuba. Now, Cuba is only some 90 miles offshore from mainland USA. I have the name of the Deputy National Coordinator of the National Disaster Management Organization (NADMO) as part of the caption for this article because in the wake of the industrial action launched by the Ghana Medical Association (GMA), it was Ms. Anita D'Souza who disdainfully declared that absolutely no livable conditions of service would be afforded the striking doctors. And also that the Mahama-led government of the National Democratic Congress (NDC) would rather turn to the Cuban government for an ample supply of doctors to staff the country's public hospitals, clinics and health centers.
Now, we learn that about 20 Cuban-trained Ghanaian doctors are stranded in the island nation because, either Mr. John Dramani Mahama and his Flagstaff House Abongo Boys have refused or failed to send them airplane tickets to return home (See "Ghanaian Medical Students Stranded in Cuba" Citifmonline.com / Ghanaweb.com 8/14/15). I wonder how the Mahama government can afford to haul in several hundred Cuban doctors, if it cannot even purchase a mere 20 one-way airplane tickets for citizens of this country who were, reportedly, sent to Cuba to train as doctors. Even more shocking, we are told that since the beginning of this year, none of these doctors have been paid their contractually stipulated stipends and various allowances. Many of them say that they are worried because they need to arrive in the country on time to be able to take their Medical Board Exams, in order to be certified to ply their trade in Ghana. The certifying, or licensing, exam we are also told, is given only once a year.
Maybe somebody needs to inform the Medical Board, whatever their real name is in Ghana, to break with the regressive tradition of the past whereby doctors could be certified only once a year. It has to be made possible, now, for our doctors and other professionals to be able to sit for the board-certifying exams several times a year. Not only does such a multiple process make for best practice and good for business, it would also help to ease up artificial shortages in certain vital areas of the country's healthcare and corporate systems. The problem of these newly-graduated medical students is the fact that Cuba is a socialist economy, where they cannot just walk up to any hospital and get hired so as to make enough money to make the return journey home.
This is precisely where Ms. D'Souza comes in. As Deputy Coordinator of NADMO, she has quite a bit of resources at her disposal to enable her to ferry in precisely the kind of doctors she has been hoping would promptly come in and replace the striking members of the Ghana Medical Association. This is a really disastrous situation; and Ms. D'Souza could even arrange to have these stranded Ghanaian doctors paid their back stipends, on the solemn promise that they would not come home and join their GMA colleagues. It would also be interesting to know what President Raoul Castro, Uncle Fidel's kid brother, has to say on this matter. I am also quite certain that Ghana maintains cordial relations with the erstwhile Soviet Union's favorite daughter.
What I am suggesting here is that the Ghana Embassy in Havana ought to be up and doing something substantive about the plight of these young doctors. Or are Mr. Mahama and his minions waiting for President Barack Obama to open the floodgates of economic and political asylum to these stranded fine minds, now that Cuba and the United States have decided to resume diplomatic relations, nearly after 54 years of diplomatic freeze?
If these stranded young medical-school graduates think living in "Socialist" Cuba is hell, they had better find out from GMA's Dr. Adusei the sort of "Socialist-Hell" that President Mahama and his Flagstaff House Abongo Boys have been running them through these past couple of weeks.