EU, US calls for Burundi election delay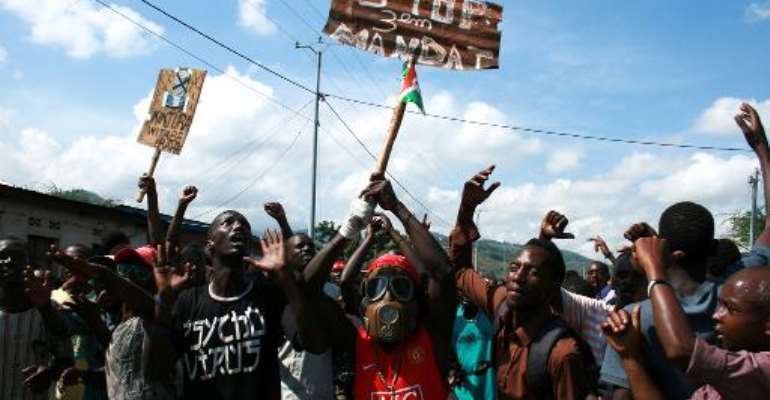 Bujumbura (Burundi) (AFP) - The European Union and United States called for a delay to elections in Burundi Monday after deadly protests triggered by the president's bid for a third term.
The call came as protesters defied government orders to end demonstrations against President Pierre Nkurunziza's controversial bid, and two days before a regional summit of East African leaders hoping to end the crisis.
"We encourage the government of Burundi to take measures to calm the situation, and the idea of a delay in the electoral timetable would be for us a good thing," EU Special Envoy Koen Vervaeke told reporters, speaking on behalf of the EU as well as Switzerland.
US ambassador Dawn Liberi read a similar statement, while key European donors -- Belgium, The Netherlands and Switzerland -- suspended vital funding for elections.
At least 19 people have been killed, including protesters and police, and scores have been wounded since late April, when the ruling CNDD-FDD nominated Nkurunziza to stand for re-election, triggering daily protests.
Vervaeke, speaking on behalf of the EU as well as Switzerland, said that "the minimum conditions to go for the elections are not met -- that is, the freedom of the media and to demonstrate peacefully."
African Union Commission chief Nkosazana Dlamini-Zuma last week warned the time was not right for elections, and that it was "clear that there shouldn't be a third term."
Belgium, the former colonial ruler, suspended aid to the electoral process, withholding two million euros ($2.2 million) of backing. The first half of the package, another two million euros, has already been paid.
The Netherlands and Switzerland later followed suit.
Elections are estimated to cost some $60 million, with two-thirds of that -- $39 million -- coming from foreign donors, but it was not immediately clear how much has already been paid.
Burundian Foreign Minister Laurent Kavakure said the "suspension means it is not final," adding the government had "started to take some steps to improve the situation, and we are determined to create the conditions for free, transparent and peaceful elections."
Nkurunziza, a former rebel leader from the Hutu majority who has been in power since 2005, has come under intense international pressure to withdraw from next month's election and stand down.
- Risk of 'regional crisis' -
East African leaders are to hold an emergency meeting to discuss the crisis on Wednesday in Tanzania, with over 50,000 Burundians fleeing into neighbouring nations as refugees since the unrest began.
Hundreds of opposition supporters defied government orders to end their demonstrations Monday on the streets of the capital Bujumbura, despite the security services ripping down barricades set up during days of protests.
The youth wing of the ruling CNDD-FDD party, the Imbonerakure, is accused of carrying out attacks against opposition supporters.
Vervaeke said it was "very disturbing" to have weapons in the hands of groups acting outside the remit of the official security forces.
Analysts warn that without an urgent solution, the current street protests in Burundi could escalate into a crisis that spreads far beyond the small central African country.
The International Crisis Group has warned it could "fuel a regional crisis."
The latest confrontations between demonstrators and security forces in parts of Bujumbura came after a one-day "truce" declared by protest leaders on Saturday.
While the main barricades have been removed, opposition supporters set up "checkpoints" to stop people going to work.
"We continue our demonstrations to prevent Nkurunziza having a third term," said Joseph, a 43-year-old protester.
In one district, a gang of some 20 men hurled petrol bombs at a bus, but no one was hurt.
The constitutional court has found in favour of Nkurunziza, saying his first presidential term did not count as he was elected by parliament, not directly by the people.
The court's vice-president, however, fled the country after refusing to sign the judgement, claiming judges had been subjected to death threats.