Nana Akufo-Addo Fever Hits Germany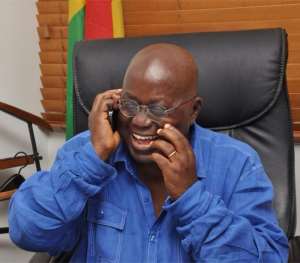 When Nana Akuffo-Addo visit to Germany was first announced in early April this year, some sceptics dismissed it as the usual rumours that has become associated with Ghanaian politics while others discounted as the pigment of somebody´s imagination. However, as posters and flyers began appearing all over and the airwaves filled with adverts announcing the visit, the initial scepticism gave way to excitement, euphoria and high expectations.
Indeed, from Frankfurt to Freiburg, Berlin to Bremen and from Aachen to Aalen, one topic that has dominated every discourse and all discussions between and among Ghanaians resident in Germany is the NPP Flag bearer´s visit on May 16 2015. The huge interest generated by Nana Addo´s visit is not surprising and can be explained by various but obvious reasons.
Like their compatriots all over the world, Ghanaians living in Germany are acutely aware of the serious and to large extent self-inflicted economic crisis facing the country. The country that was once the beacon of hope in the period between 2001 and 2008 now finds itself in a state of hopelessness and perpetual crisis. Clearly, Ghana current crises have manifested themselves in all sectors and aspects of our national life.
The country is now facing the worst economic crisis in decades, the longest running power crisis in our recent political history, a spiralling inflation and a persistent depreciation of the cedi against major currencies on daily basis. Thecumulative effect of these crises is the high cost of living, a fall in the living standard of the ordinary Ghanaian and loss of business confidence all of which have very serious implications for both economic and political stability.
Leadership, it is said, is the cause and every other thing is the effect. Hence, all well-meaning Ghanaians now admit that the current economic mess in which the country finds itself is as result of failed leadership. For the past six years the NDC government has demonstrated the highest level of incompetence, ineptitude and above made corruption a very attractive enterprise. Indeed, it would be an understatement to characterise the Mahama-led government as corrupt. In fact it is an epitome of corruption as evidenced by SADA, GYEDA, ISOFOTON, AFRICA AUTOMOBILE and BRAZIL 2014 just to mention a few. Apart from the unprecedented magnitude of corruption witnessed under the six-year misrule of the NDC government, it is now obvious that the Mahama administration suffers from policy incoherence, lacks a clear sense of direction and has so far failed to provide the leadership that Ghana requires and deserves at this crucial time in our history.
With corruption cascading throughout the Presidency, Ministries to the party office, coupled with crumbling infrastructure, erratic power supply, a dysfunctional NHIS and the lack of leadership among others, it has become obvious ,and some would argue imperative for Ghanaians to look up to Nana Akuffo to provide the needed leadership that has eluded Ghana for the past six years. It is important to stress that the popularity of Akuffo-Addo among Ghanaians both home and abroad and their yearning desire and determination to have him as their leader (President) is borne out of the urgent need for change in 2016. More importantly, his dedication to public service for nearly four decades, a successful businessman, an outstanding diplomat, an excellent legal practitioner, decisive leadership and anti-corruption stand are traits that distinguish him for all other political leaders in Ghana today. It is these qualities that have made Nana Akuffo-Addo the most popular politician in our country and thus explains why thousands of Ghanaians from all over Germany and other parts of Europe will be travelling to Cologne to meet and listen to the man who has become a symbol of hope and inspiration for Ghana and Ghanaians
Venue. Sport Centre Bushido, SechtemerStrasse 5, 50968 Cologne
Time. 6pm
Date. 16 May 2015
Contacts
01737400500
01743331632
01741600959
015127962188
015210744624
Kwaku Anane-Gyinde