The Men In White - The Legacy Of Lee Kuan Yew And Why Ghana Can Never Make It (1)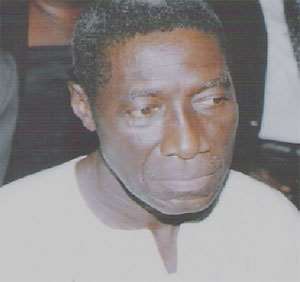 'When we took the oath of office at the ceremony in the city council chamber in June 1959, we all wore white shirts and white slacks to symbolize purity and honesty in our personal behaviour and our public life. The people expected this of us, and we were determined to live up to their expectations. We made sure from the day we took office in June 1959 that every dollar in revenue would be properly accounted for and would reach the beneficiaries at the grass roots as one dollar, without being siphoned off along the way. Human ingenuity is infinite when translating power and discretion into personal gain. Law and order provide framework for stability and development. So, from the very beginning we gave special attention to the areas where discretionary powers had been exploited for personal gain and sharpened the instruments that could prevent, detect, or deter such practices'.
–Lee Kuan Yew
Lee Kuan Yew, the statesman who transformed Singapore from a small port city into a wealthy global hub, has died at the age of 91. At one degree north of the equator, tropical Singapore has become a hotspot known for its efficient infrastructure, rooftop bars, chilli crab, and host city to the only night race on the Formula 1 racing calendar. Often dubbed as the "Monaco of the East", the red dot has beaten a path to steady economic progress and prosperity since the 1970s. The transformation of Singapore from a poor third world country into a modern first world country began fifty years ago, in 1965 to be precise, when it became an independent state, after leaving the short-lived Malaysian Federation.
Once a swamp-filled jungle, when the British arrived in 1819, under the leadership of Sir Stamford Raffles, the makings of modern Singapore began. When Singapore gained its independence in 1965, it was an island without any natural resources to call its own. Lying at the mid-point of the shipping route between India and China, today, it has become a thriving trading port, and with this trade has come a huge influx of immigrants from all over Asia. Within that period of fifty years, Singapore has pulled off a dramatic transformation – boasting two casino-integrated resorts and an airport that has frequently topped the "world's best" list. In addition, the central business district is crowded with skyscrapers that rival neighbouring Hong Kong and mid-town Manhattan in far-flung New York.
Much of the city's success can be attributed to the vision of one man – Lee Kuan Yew, Singapore's first prime minister who died peacefully on Monday, March 23in a university teaching hospital in Singapore after a hospitalization over a period of six months. Lee Kuan Yew became the first prime minister of Singapore on June 5, 1959.The city-state's prime minister for 31 years, he was in office from 1959 to 1990, the tenure made him the world's longest-serving prime minister in history at that time. He was widely respected as the architect of Singapore's prosperity. Lee Kuan Yew was not one to shy away from his achievements for Singapore. The second volume of his published memoirs carries the title: 'From Third World to First: The Singapore Story: 1965-2000'.
With a sense of vision and a ruthless pragmatism, Lee Kuan Yew led Singapore as it transformed from a tiny island with no natural resources into a thriving economic success. He successfully channelled the energies of Singaporeans to create what has often been described as an economic miracle, a mixture of private and state capitalism. Lee Kuan Yew made Singapore prosperous, modern, efficient and practically corruption-free – and overseas investors flocked in. But while he was admired for his economic success, many expressed concern over his record on human rights. Lee's philosophy was simple: 'We decide what is right. Never mind what the people think'. The philosophy worked for Singapore. He argued that people needed to be shaped by governments into nations – and was unapologetic about the steps he took to do this.
At the back of my car is a poster with the inscription: 'Ghana Needs a Lee Kuan Yew'. It was printed and given to me by a Ghanaian lady who visited Singapore and was so enthused with the development, discipline and patriotism of the Singapore people and their leaders to such an extent that, she decided to start a crusade in Ghana to propagate the ideals of Lee Kuan Yew. She came out with the idea of the poster with the inscription: 'Ghana Needs a Lee Kuan Yew' which people could stick on their cars, on their doors, indeed on any available visible space. Very often people drive alongside me in the street and curiously ask me: 'Who is Lee Kuan. Yew'. On university campuses also, students very often stop by my car to ask me the same question. Where the traffic or time permits, I ask them whether they have heard of Singapore. Most of the time, they respond: 'Yes'. I then give them a short lecture as to the fact that Ghana had her independence eight clear years ahead of Singapore and how at independence Ghana was far richer than Singapore.
I then tell them that Singapore at independence was a country without any natural resources and how within a period of 30 years Singapore became the world's richest country while Ghana at the same period became one of the poorest countries in the world. Then I tell them the person who performed that miraculous transformation of Singapore was Lee Kuan Yew. I then add as a measure of satisfaction that since independence, Ghana had been saddled with criminals as leaders in every field of human endeavor, particularly in governance, and unless we can get our own Lee Kuan Yew, we would be wasting our time and end up at the Stone Age where we are already, with the current 'dumsor' national life.
It surprises me that most of my listeners have heard of Singapore but hardly the name Lee Kuan Yew. What also surprises me is that all the politicians who have fought for the office of presidency of this country since the onset of the 'Fourth Republic' have read about Lee Kuan Yew and read his book: 'From Third World to First: The Singapore Story: 1965-2000'. Indeed, both J.J. Rawlings and J.A. Kufuor led massive delegations to Singapore on the assumption of office. Sadly enough, none of them on return could dream of the crusade of the young woman who came up with the idea of a poster I mentioned earlier in this article.
When Lee Kuan yew died, somebody took a picture of the posture at the back of my car and posted it on the internet.
E-mail: [email protected]
By Kwame Gyasi