Sudan ruling party names Bashir possible choice for presidency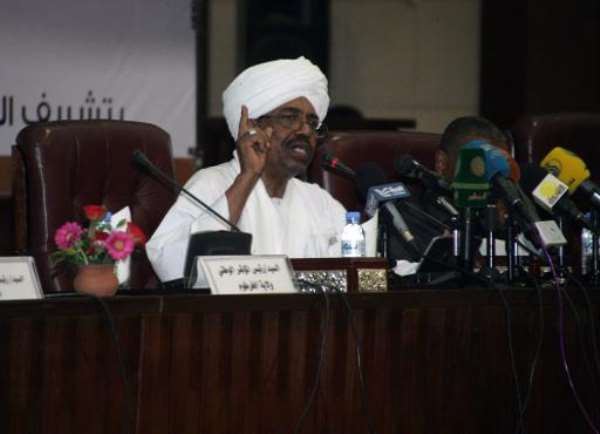 Sudanese President Omar al-Bashir speaks during a convention at the National Congress Party headquarters in Khartoum on September 27, 2014. By Ebrahim Hamid (AFP/File)
Khartoum (AFP) - Sudan's ruling party Monday named President Omar al-Bashir as a possible candidate for the country's April presidential elections, an advisor said, despite doubts he would stand again.
After taking power in an Islamist-backed coup in 1989, it had been unclear in recent years whether Bashir would run again in next year's polls.
But he was one of five candidates picked at the convention of his National Congress Party (NCP) in Khartoum, his chief assistant told reporters.
Ibrahim Ghandour said "there were 10 candidates and after a secret vote the leadership council chose five" to head the NCP, naming Bashir and four others.
Once selected, the head will stand as the party's presidential candidate.
Bashir is wanted by the International Criminal Court for alleged war crimes, crimes against humanity and genocide in Sudan's Darfur region.
The president underwent two knee operations over the summer, raising concerns about his health ahead of the elections.
In a March interview, Ghandour said Bashir had "declared many times that he's not willing to" stand again, but the decision rested with the NCP.
Several opposition parties have said they are not committed to the April elections for president, national and state legislators and for governors.
They have said any elections must form part of a national political dialogue which Bashir announced in January to discuss multiple crises in impoverished, war-ravaged Sudan.
Ghandour named the other candidates as himself, senior NCP member Nafie Ali Nafie, ex-vice president Ali Osman Taha and First Vice President Bakri Hassan Saleh.
On Tuesday, the NCP advisory council will pick three of the five candidates named by Ghandour for further consideration for the role.